Shortly after finishing the Baby Kina sweaters and Saartje's Bootees, I finally blocked the Lehe Square Shawl. I started this shawl sometime last summer, and finished it this winter, then it lingered, complete and unblocked, for a good long while. Finally, there's an FO to share, thanks to a day off.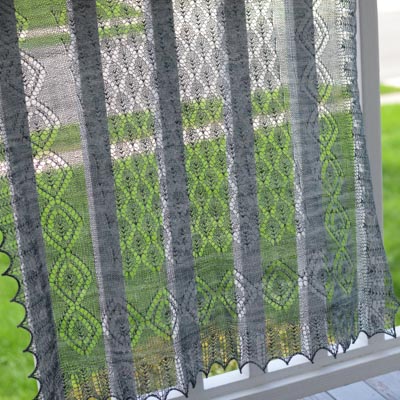 Pattern: Lehe Square Shawl from Knitted Lace of Estonia
by Nancy Bush. I've always thought of this shawl as the baby sister to the Crown Prince Lace Shawl from the same book. It has a similar look, but it's smaller, doesn't have any nupps, and the edging is easier to manage. Also, I think it's a much prettier shawl than the photos in the book make it seem. Not that my photos are particularly amazing, but it's really lovely in person!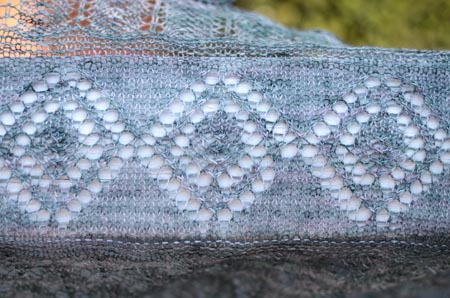 Yarn: Sundara Yarn Lace Silky Merino, Earth Studies #198. This shawl used about two-thirds of the skein. This is a lovely colorway that is a little gray, green, and blue. I loved when I could trace the path of the working yarn around other stitches because it was slightly lighter or darker than background. It's akin to seeing a vein under skin – the evidence of all the complexity beneath the surface.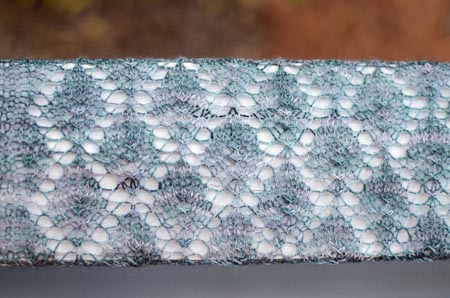 Needles and finished dimensions: I used US 2.5 (3.0 mm) needles, and the shawl came out to be about 30″ x 28″.
I am not sure to whom I will give this shawl. I was originally thinking my grandma, but it's both smaller than she likes, and not the perfect color for her. Hopefully the right recipient comes along soon!
In other, more exciting news, I did want to share that we will soon be adding another child to our family! I am expecting a baby girl in the beginning of October. As far as knitting is concerned, the "morning" (haha) sickness knocked the wind out of my sails for a good three months, but now I seem to be back on track. If past experience is any indication, things will be slow going for a while after giving birth, too, but it will be well worth it at the end, I'm sure ;).
0
likes