April was a whirlwind. There was illness, lengthy hospital stays, sleepless nights, extra responsibilities at work, and lots of fretting. Very little knitting or crafting. Fortunately everyone is on the up and up now, thank goodness! I'm delighted to put April behind us and move on to May.
The only crafty casualty worth mentioning was my participation in the potholder swap this year, the first year I've had to miss out on the action. The deadline came and went, and all I had completed was the front of only one potholder.
On the other hand, I was able to finish the Baby Kina sweaters I showed you last time, and even made matching Saartje's Bootees!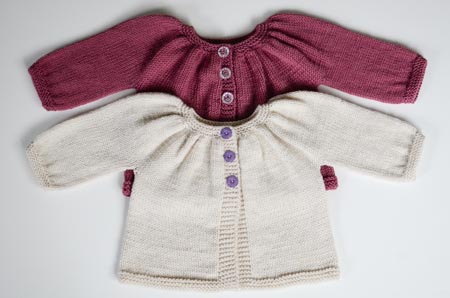 Pattern: Baby Kina by Muriela. I knit the 6 months size, with long sleeves. The recipients are due in June, so my hope is that they'll be able to wear their sweaters during the fall and winter.
Needles and finished dimensions: I used US 2.5 and US 4 needles, exactly as specified in the pattern. The sweaters have the following finished dimensions: 19″ chest circumference, 10″ from shoulder to hem, and 5″ sleeve length to underarm.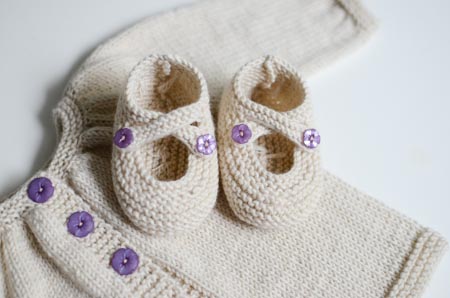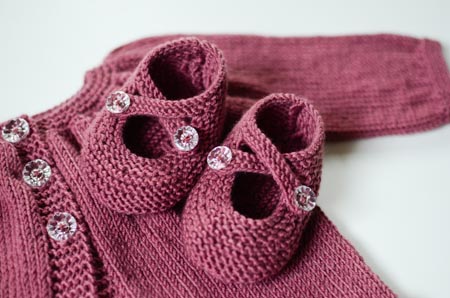 Pattern: Saartje's Bootees by Saartje de Bruijn. I knit the large size. No mods, except that I extended each strap by 2 stitches, and knit the buttonholes right into the straps.
Needles and finished dimensions: I used US 2.5 needles. Both the yarn and the needles were larger than specified in the pattern, so my booties ended up being approximately 4″ from heel to toe. I hope this will work for a 6 month old (I think it will – the booties are pretty wide, and very stretchy!).
Yarn: Debbie Bliss Baby Cashmerino; the rose is #036, and the off-white is #101. I used 2.5 skeins of each color to make the baby sweater plus booties.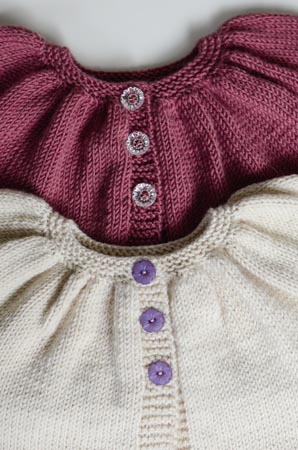 I was very pleased to find these perfect little buttons at my local Joann's. They are nothing particularly amazing (sigh, Windsor Button, sigh), but they match the sweaters well, and came in both large and smaller versions, so I could use the same style for both the sweaters and the booties.
0
likes