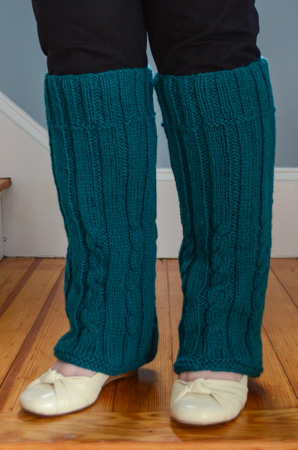 Pattern/back story: I knit these for a coworker, who has a very, very cold office. The idea is to wear these on top of pants while sitting at her desk, then take them off easily when going home or to a meeting. They are tall and very roomy, so even wide-leg pants would fit beneath without much wrinkling. At the same time, the ribbing keeps them up, the cables cinch them at the ankle, and the garter stitch at the bottom allows the legwarmers to surround the foot and shoe. Stitch motifs, at work!
Yarn: Cascade Eco+ in 8462, spruce. I used a little less than 1 skein. I loved knitting with this yarn; it's not often that I use a bulky weight yarn, and it's just so awesome how quickly it knits up! So soft, too! And despite such a deeply saturated color, there was just a hint of bleeding when I blocked the fabric. I was expecting much worse.
Needles: US 10 circs. The legwarmers are about 18″ tall, and 14″ around, if measured unstretched. If stretched, they are much wider!
A great little project to start the year! I will have another FO to show you soon, too, and this one is polar opposite – super delicate lace!
1
like