This is a belated gift for a new baby. He is now 14 months old. Eh, who's counting?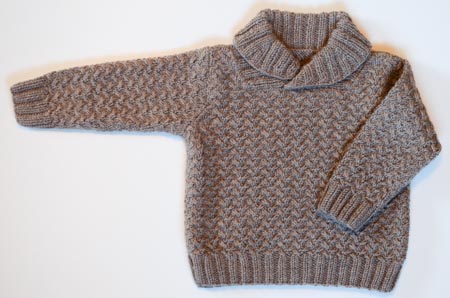 Pattern: Though the pattern is my own, it's styled after the Fisherman's Pullover by Lee Gant in 60 Quick Baby Knits
(my review of that book here), as well as this Janie and Jack cabled sweater.
Once upon a time, I had actually started that Fisherman's Pullover using this very yarn, but found that the fabric came out very bulky – too much cabling for such a little sweater. The silhouette appealed to me, however, so I decided to swap smaller cables that would add texture, but not as much bulk.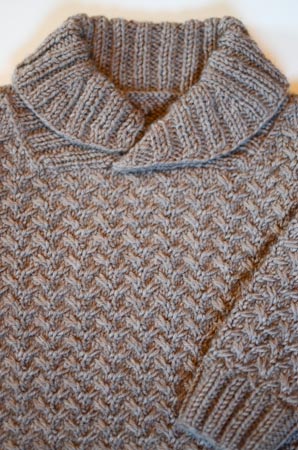 If the stitch pattern looks familiar, that's because it's the same one I used in the Shifting Sands scarf pattern.
Yarn: Cascade 220 Superwash, 100% superwash wool, in color #1926, doeskin heather. This sweater used up about 2.3 skeins (520 yards).
Needles: US 4 for the ribbing, US 6 for the body.
Finished dimensions: 23″ chest circumference, 12″ from shoulder to hem, and 8″ sleeve length to underarm. I aimed to make this an 18-month size, and I think I got pretty close.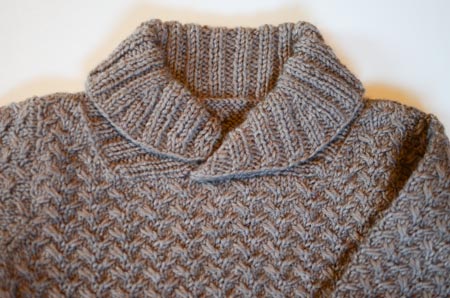 I found the collar of this sweater to be simply impossible. I am not sure where I went wrong: did I make the neck hole too deep or too wide, too shallow or too narrow? Did I pick up the wrong number of stitches, or knit the ribbing to the wrong length? No matter what I tried, it seemed to me that the collar was coming out too high and too closed up. I finally made the collar work, but not before adding short rows and increases to make it spread out and away from the neck, and seaming it at least a dozen times. Ugh! I think I don't want to see another shawl collar for a long while.
1
like