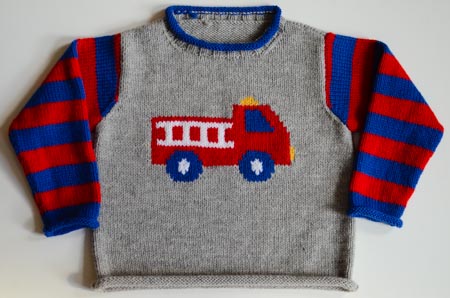 Pattern: Fire Truck Roll Neck by Gail Pfeifle of Roo Designs, 6 year old size.
As I previously mentioned, I followed the shaping of the 5/6 size of the Jay sweater from The Rowan Story Book of Little Knits, including the addition of shoulder and armhole shaping. It was quite serendipitous that I came across this pattern: as you can see below, even though the armhole is shaped, it's very basic and blocky, nearly a drop-shoulder sleeve. So, it's in keeping with the original look and style of the Fire Truck Roll Neck, but it will fit better ;).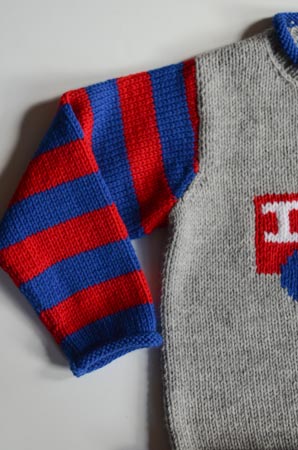 Yarn: Cascade 220 in the following colors: 8401 (silver gray, about 1.5 skeins, though the pattern calls for 3 (!) skeins if knitting this size), 7818 (blue velvet), 8895 (Christmas red), 8505 (white), and 7827 (goldenrod).
Needles and finished measurements: I used the recommended US 5 and US 7 needles. The sweater was knit to the recipient's specs, 30″ chest circumference, 16″ from shoulder to hem (can be unrolled to be longer), and 12″ sleeve length to underarm (again, can be unrolled… or rolled up).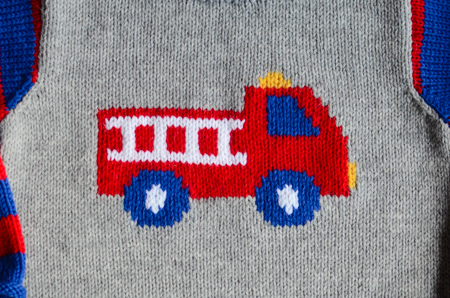 My finishing process for this sweater was as follows:
Complete individual pieces.
Weave in all ends except those which might be used for seaming.
Steam block individual pieces.
Seam the sweater together and knit the collar.
Steam block all the seams and the collar.
In addition to all the intarsia ends, the sleeves had lots of ends because I cut the yarn for each stripe – the stripes are 8 rows high, which seemed too high and messy to carry up. So, I needed the sweater to block well, to secure and conceal all those ends. I think the steam blocking was a good choice – compare the pictures above with pics of the unblocked!
0
likes