A few days ago, we celebrated my little boy's second birthday. Unbelievable.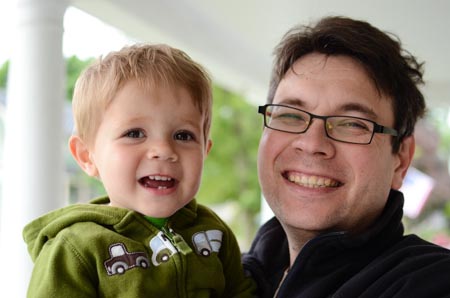 Here he is, on his birthday, with the Mister.
Several weeks ago, I finished Budgie, the Third. I should have blogged about it sooner, because I've already forgotten all the details. To the best of my knowledge…
Pattern: my own Budgie, 3-6 months size.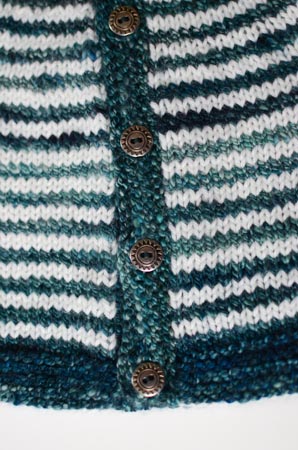 Yarn: Blue Jellyfish handspun from Pigeonroof Studios (80/10/10 superwash merino/cashmere/nylon, 170 yards of DK/worsted weight) plus Berroco Vintage #5101 (mochi) (left over from knitting the Preppy Cardigan). The handspun is beautifully variegated, with hints of blue, green, and gray.
Needles and finished measurements: US 6 and US 7 circs; 20″ chest circumference, 6″ sleeve length to underarm, 10.25″ shoulder to hem. The sleeves look a bit long to me, hmmm… Fortunately, they can be rolled up ;).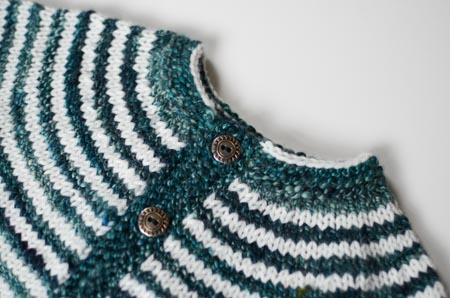 The buttons are simple, but appropriate (I think) to the nautical tone of the sweater. Also, I think they might be the exact same buttons I used on this (nautical) sweater, though purchased 3.5 years apart.
Now that this sweater is off the needles, I'm focusing on some socks for my grandma! I last talked about the need to knit a pair of sock for her here. I did end up using the Traveler's Stockings pattern, and Lorna's Laces Shepherd Sock in turquoise (22ns). I'm nearly done, stay tuned for pics!
0
likes