Before anyone gets too excited, not my baby :). But there does seem to be another wave of babies expected in 2013, and this knitter has her needles at the ready! First up, a gift for a friend who's expecting a girl this May.
Pattern: Inky Dinky Jacket and Hat by Anne Hanson. I first noted this gorgeous pattern on the lovely Eloise, and it was only a matter of time before the right recipient came along so I could knit it!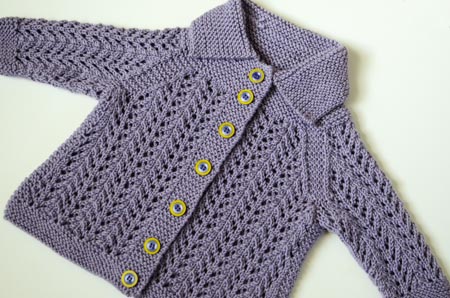 I knit the 6 month size of both jacket and hat, without too many modifications! Oh, yes, you might have noticed that it's a different stitch pattern – I had to change that. As beautiful as the original is, I just couldn't keep up with the massive chart. I subbed the significantly-easier stitch pattern from Elizabeth Zimmermann's Baby Sweater on Two Needles (February) from the Knitter's Almanac
. I think it worked out very well.
Yarn: Louet Gems Merino Sportweight in color 09, lavender, two 100-gram skeins almost to the last yard! I've had this yarn in my stash for almost as long as I've been knitting – I bought it off eBay years ago for a song, as they say. The color has been long discontinued. I could never think of the right project to knit with it, but this one was perfect. I paired this very classic color with interesting buttons!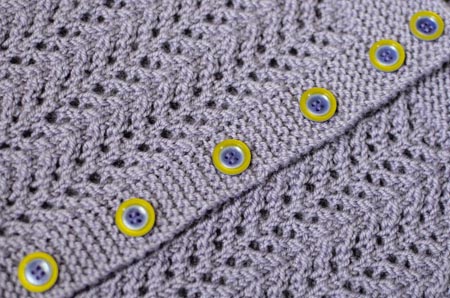 The buttons are from the now defunct Windsor Button. Where else could I have found such great buttons?!? Oh, the sadness :(.
Needles and finished dimensions: As recommended, US 3 and 4 circs and dpns. After blocking, the sweater is about 19.5″ across the chest, 11″ from hem to shoulder, and 5″ from cuff to armpit. The hat is 14″ in circumference and 6″ deep. I know the hat pattern was written to be more of a beret than a hat, but I think my version is going to be more of a slouchy hat. Everything is super stretchy, but I think this set will fit a 3-6 month old: so, for this May baby to wear this fall/winter.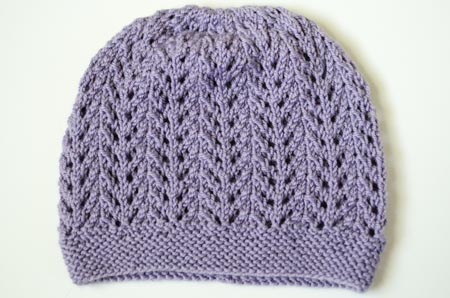 All in all, I really liked the styling of this sweater – the A-line silhouette, the lovely little collar, the garter stitch edgings. I did find the actual pattern a little wordy, but I don't think I'm allowed to complain about that, as I write wordy patterns myself ;). Just push through – Anne Hanson has you in good hands :).
0
likes