Stranded knitting has a special effect on me – no matter how torturous the knitting (I called this project "hellish" the last time I wrote about it), I love the end result! When thinking about my favorite knitted projects over the years, I instantly think of the mismatched Fair Isle knee highs, for instance. And so with the Deer Dress: after all is said and done, love, love, LOVE!!!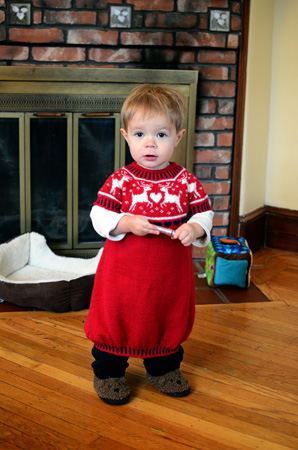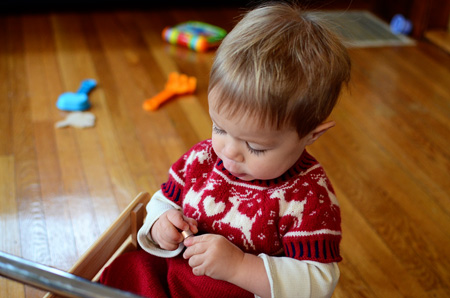 Pattern: Deer Dress by Signe S. Simonsen.
Yarn: red is Dale of Norway Baby Ull, #4227, 3.5 skeins; white is Dale of Norway Baby Ull, #0020, less than 1 skein; navy is Lanett Superwash, #5575, less than 1 skein.
Needles: US 1.5, 2.50mm circs.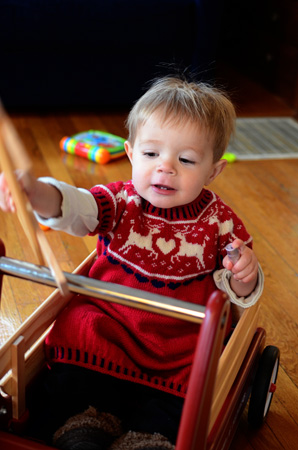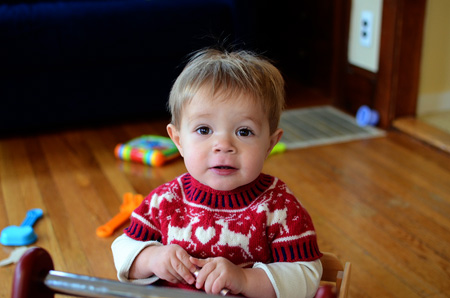 Sizing, gauge, etc.: I worked the second smallest size, 1.5-2.5 years, and the dress came out to be 21″ around the chest and 19.5″ shoulder to hem after blocking. I steam blocked using my steamer, by the way. As always, my gauge varied drastically between plain stockinette and stranded knitting. Plain stockinette: about 7 stitches and 9.5 rounds per inch. Stranded knitting: about 9 stitches and 11 rounds per inch.
I failed to accommodate for my very tight stranded knitting, and as a result, the chest came out quite small/tight and the dress fits a child much smaller than a typical1.5-2.5 year old. The pattern made some provisions for the differences in tension between stockinette and stranded stockinette, but I think I needed to compensate even more.
Nonetheless, the end result should fit the recipient, and overall I'm super pleased with how it came out!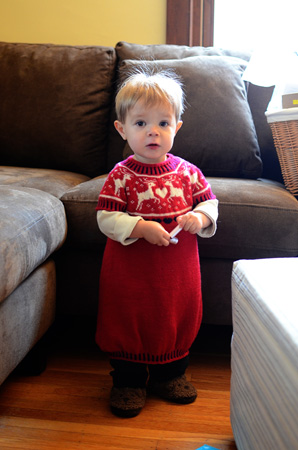 My model is a cute one, eh? Get those blackmail photos while they're young, right? 😉
0
likes