My little boy will be 1 in two days, and I can't even believe it. I have been with him every day since birth, and yet it seems impossible that 364 days have gone by, that he has been with us for this long. Wasn't he just the teeniest tiny baby yesterday?
Gregory is not walking yet, but he crawls up a storm. Needless to say, the days of plopping him on a play mat or in a bouncy chair and knitting a few rows are long gone. On top of that, even if I do complete a project, getting great FO shots like I got in the past is impossible. By the time I frame the shot, my model has crawled away and I get a nice pic of his ass :).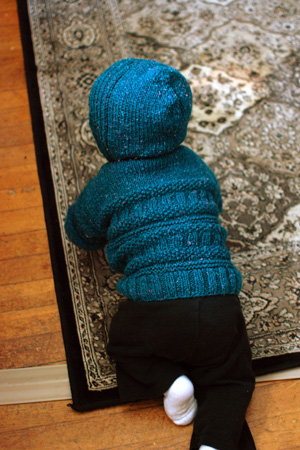 Pattern: Arshile from Berroco's Booklet #303. My gauge was a little different than specified, so I followed the 12 months size numbers to get the 18 months size measurements.
Yarn: Kraemer Yarns Tatamy Tweed Worsted in teal tweed, 3 skeins almost in their entirety.
Needles and gauge: US 6 and US 7; using the larger needles, 4.5 spi and 7 rpi in stockinette.
Finished measurements: 22.5″ chest circumference, 9″ sleeve length to underarm, 13″ shoulder to hem.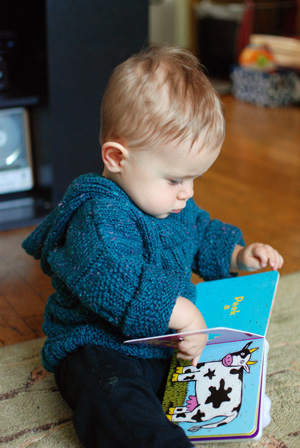 I am very pleased with the way this sweater came out. It's roomy now, and the sleeves are way too long, but I can already tell that the proportions are good and that the sweater will fit well once Gregory is big enough. Getting his head through the neck hole was a little bit tight, even with that large opening in the placket, but I think the neckline will stretch out with time.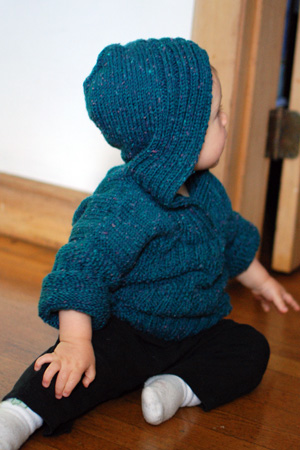 I made a few modifications here and there, but generally stuck with the directions. The only thing that I totally changed was the hood. As written, the directions are rubbish. The knitter is asked to pick up way too many stitches, and knit the whole thing in 2×2 ribbing… that will never fit because it will contract and pull back. I kept only the front of the hood in ribbing, so that it flows nicely from the placket, and knit the rest in stockinette. For shaping, I mimicked a hoodie that Gregory has. I think the modified hood came out great!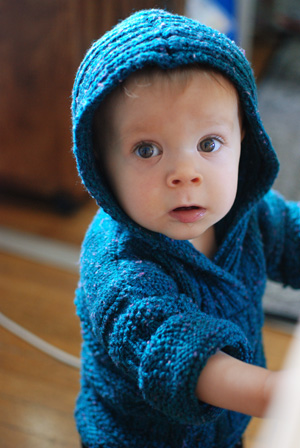 Happy birthday, my little boy! And thank you, my friends, for sticking around despite the irregular posting.
0
likes