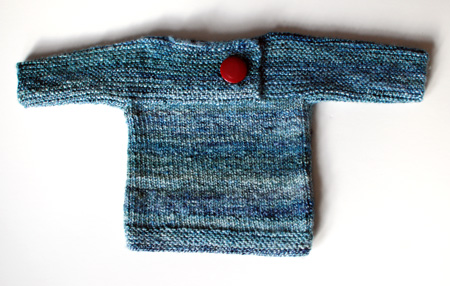 Pattern: Petite Facile Pullover by Meghan Jones from the Winter 2011 Interweave Knits. I knit the smallest size, 3 months, to fit a baby born this winter.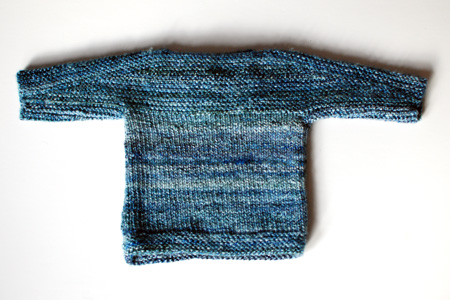 A few thoughts about this pattern:
Super clever construction. A little garter stitch, a little stockinette, knit in one piece with just a few seams to put it together. Love the short row technique to shape the sleeves, as well as the offset sleeve seam.
I knit this without a single modification, but I think if I knit this again, I would lower the front neckline a little bit. I think the sweater is going to ride up over the chin the way it currently is. A few short rows in the front would make a nice curve, and match the sleeve short rows in the back!
Yarn: superwash merino 3-ply handspun from Pigeonroof Studios, squall colorway. This is my first time using a 3-ply handspun yarn, and it's very different than 2-ply. It's rounder and denser, and creates a fabric that's perfect for outerwear. One of the skeins I had was a bit unbalanced, so the front stockinette panel biases, but overall this was a lovely yarn with a beautiful denim look. The sweater used up about 220 yards, I'd say.
Needles, gauge, and finished dimensions: US 7 addi Turbo needles gave me a gauge of about 4.5 stitches and 7.5 rows per inch in stockinette. The sweater measures 18″ around the torso, 10.5″ from shoulder to hem, and 5.75″ from armpit to cuff.
Ever since having a baby, I've become keenly aware that I roll up shirt and sweater sleeves 95% of the time. I now tend to knit sweater sleeves shorter than patterns specify. But I didn't change this pattern – 5.75″ armpit to cuff for a 3-month size is pretty good! The standard is 6″, and I've seen sleeves as long as 7″ for this size!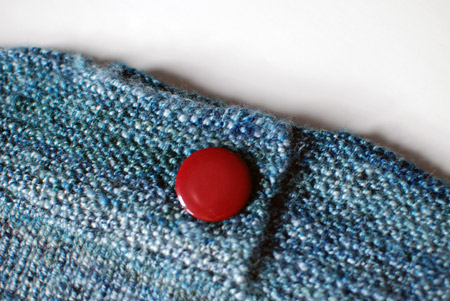 Lastly, the finishing touch is a pretty shank button I picked up at Gather Here – love that shop!
My baby boy is 7 months old today, and he wishes all of you a wonderful week!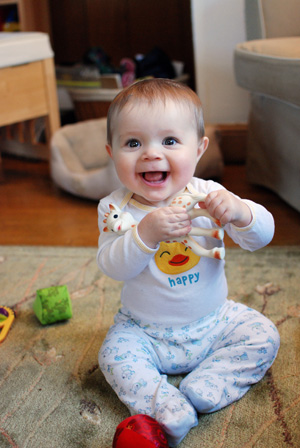 1
like