This one came out super cute! Simple, classic, but also very practical. I'm not sure yet whether I'll keep it for Gregory, or give it to one of the babies due this fall/winter.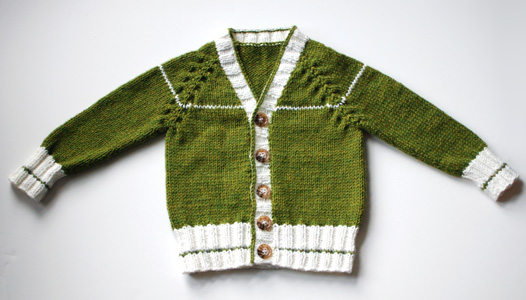 Pattern: Preppy Cardigan from 60 Quick Baby Knits (my review here). The pattern in the book is completely incorrect, but I received a corrected copy from the publisher and followed the directions for the smallest size.
Yarn: Berroco Vintage, 2 skeins of 5175 (fennel) and 1 skein of 5101 (mochi). As I mentioned before, I really enjoyed knitting with this yarn. It blocked beautifully, and the fabric is very soft and squishy. The fennel colorway, in particular, is gorgeous – bright, heathered, and multidimensional.
Needles: US 5 and 7.
Finished dimensions and gauge: 21″ chest circumference, 8″ sleeve length to underarm, 12.5″ shoulder to hem. Similar to the Jasper Diamond Hoodie, this is in the 6-12 months range. My gauge using the larger needles was about 5 stitches and 7 rows per inch of stockinette knitting.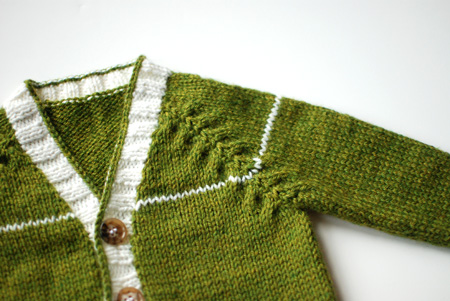 As you can see, I knit this cardigan in the exact same color scheme as presented in the book. The eighth month of pregnancy wiped out my imagination, it seems, haha! So, I wanted to match the buttons, too, but my local fabric store didn't have any matching green buttons :(. I went with classic horn-looking buttons. I figured they would be okay for a preppy cardigan.
Here's a finishing tip: when you knit a cardigan with horizontal motifs, such as stripes, make sure to line up these elements on the cardigan fronts before sewing on the buttons, installing the zipper, etc. This small adjustment can make your project look professionally finished!
How about a picture of Gregory to wrap up this post? I can't believe he is already three months old!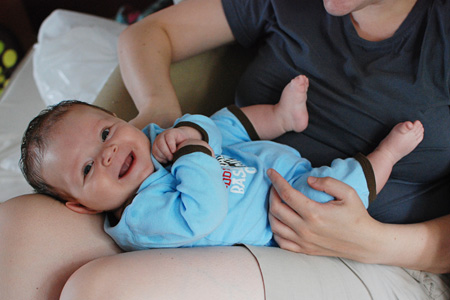 0
likes