This one is quite different in both dimensions and texture from the Twisted Tree cardigan I finished a few weeks ago.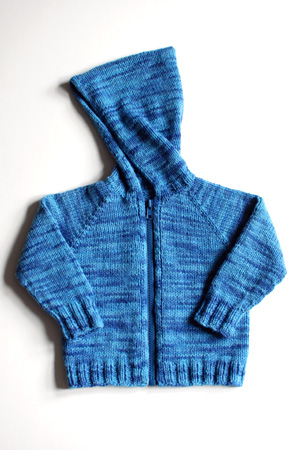 Pattern: #982 Babies Neck Down Cardigan from Knitting Pure & Simple. I knit the middle size – 12 months.
Not too many noteworthy modifications. As usual, I knit 2X2 ribbing instead of 1X1, because I strongly prefer the way 2X2 ribbing looks. I also didn't work the garter stitch edging on the hood, nor the buttonbands. Instead, I knit a continuous i-cord around the entire cardigan opening.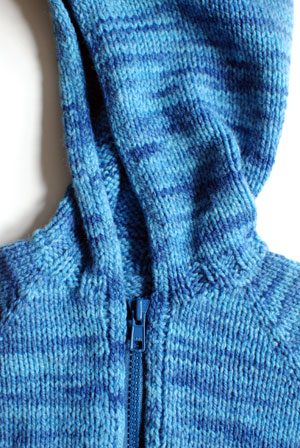 Yarn: Hand-dyed 70% cormo wool/30% nylon blend yarn from Foxhill Farm. I bought two skeins of this yarn a year ago at the Massachusetts Sheep & Woolcraft Fair. Even though both skeins were marked to be the same dye lot, I could tell that one skein had much more indigo in it than the other. So, from the very beginning, I alternated the skeins every two rows. I used a total of 132 grams of yarn, or about 400 yards to knit this sweater. This is a little bit less than what the pattern specifies.
This yarn has some kind of magic properties. It is very soft in the skein, but becomes even softer and more terrycloth-like after washing. It also blocks fantastically – all stitches even out, the fabric becomes nice and smooth and squishy. I'm glad I have enough left over for another little project!
Needles: US 6 and US 7 circs. Using the larger needles, my gauge was about 5 stitches and 7 rows per inch.
Finished dimensions: about 21.5″ chest circumference, 7.75″ sleeve length to underarm, 11.75″ shoulder to hem. Not as long and skinny as the green zippered cardi.
The zipper came together as before. I once again fully lined the back, to protect the baby from any chafing and prevent snags.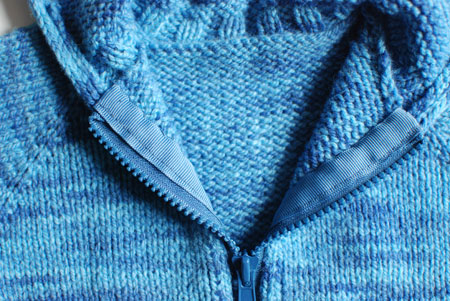 Someone asked last time whether the line of stitches closest to the zipper teeth is machine-stitched or hand-stitched. Of course it's machine-stitched! My hand stitching is not that perfect ;). That line of stitches is where I sew the grosgrain ribbon to the zipper tape. After those two are sewn together, I hand sew the now-lined zipper into the knitted fabric.
0
likes