Well. I do believe that this is the first handknit I've finished for my own baby!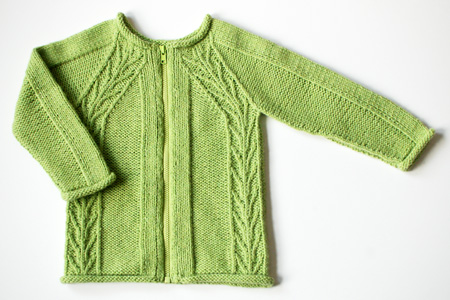 Pattern: Twisted Tree Pullover by Blue Garter's Sarah Pope. I more or less followed the instructions for the smallest size, tweaking the numbers a bit, so that the cardigan ended up with a smaller chest circumference than the 1-year-old size. And of course I cardigan-ized this pullover pattern.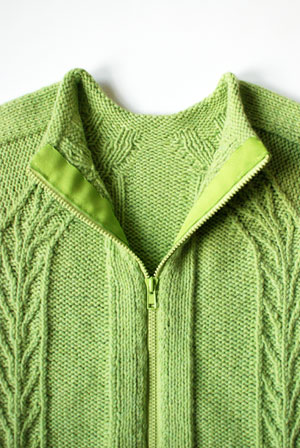 Yarn: Classic Elite Princess in #3495, Ladylike Leaf, about 2.5 skeins.
Needles: US 4 and US 6 circs. Using the larger needles, my gauge was about 5 stitches per inch in stockinette stitch.
Finished measurements: About 20″ chest circumference, 8″ sleeve length to underarm, 13.75″ shoulder to hem. As I remarked earlier, this is definitely skinny and tall for a baby sweater, but I'm not opposed to rolling up sleeves and such. Baby knitting books tell me that this size should fit some time between 6 and 18 months, depending on the baby's build. So, he should be able to wear the cardigan this winter, as I wanted!
Zipper: Fortunately, installing fully-lined zippers is not new to me, so the process went fairly smoothly. I finished the cardigan edges and shortened the separating zipper just as I did for the Budgie (instructions in the pattern), and then it was just a matter of some hand-sewing. Many folks have recently mentioned TECHknitter's "inserting no-sew zippers into knitwear" which is a great technique. For this sweater, I wanted to fully line the zipper tape from top, bottom, and sides, and decided stitching it in by hand would lead to a better result.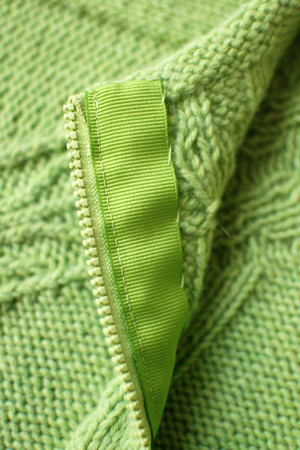 The "twisted trees" are my favorite part of the pattern, and I think the yarn shows off the stitches beautifully, much better than the handpainted blue yarn I tried initially. The sweater I ended up knitting out of the blue yarn is just about finished, too!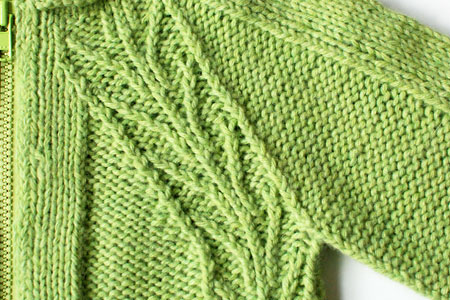 1
like