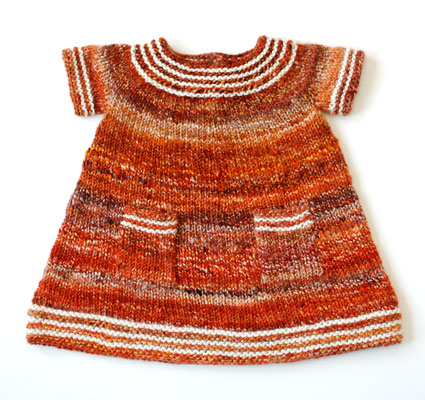 Pattern: The Elizabeth Tunic (Ravelry link). This is a very well-written pattern with many great details, such as short rows to raise the back of the tunic, and a tab for the buttonholes. Also, there are increases incorporated in the garter stitch yoke, which makes it lay nice and flat on the shoulders. I really liked all the finished versions on Ravelry, especially ones where the yoke is a solid color, and the body of the tunic is handspun or variegated. I want to try that if I knit this pattern again, which is very likely.
I knit the 3 months size (second smallest) without too many modifications. The biggest change was the addition of little sleeves. In retrospect, I probably should have left out the sleeves: something about the proportion of the little sleeves to the full skirt doesn't quite jive. Or maybe I should have knit a more modest skirt to go with the little sleeves. Oh well, next time ;). Oh, and I added little pockets.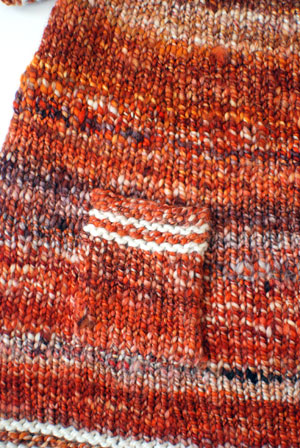 Yarn: Ripe Persimmon hand dyed, handspun, superwash merino/cashmere/nylon (80/10/10) yarn that I purchased from Pigeonroof Studios. I used about 200 yards/130 grams of yarn for this tunic. The yarn was an absolute delight! The contrast yarn is sportweight Louet Gems merino in the cream (#30) colorway.
Needles: US 4 (3.5 mm) circs for most of the knitting, with US 2 (2.75 mm) for some of the garter stitch portions. My gauge using the larger needles was about 5.25 stitches and 8 rounds per inch, after blocking.
Finished measurements: because my gauge was a little tighter than the pattern specified, the tunic has a 15″ chest circumference, and is 11″ from top of shoulder to hemline. This is closer in size to "newborn" according to the pattern, which is fine, because the recipient is still in utero ;).
Notions: 2 pearly shank buttons from Windsor Button.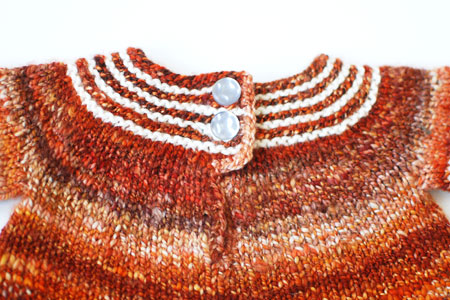 Another delightful combination of handspun yarn and handknit pattern for baby! I will never, ever tire of using the two together :).
0
likes