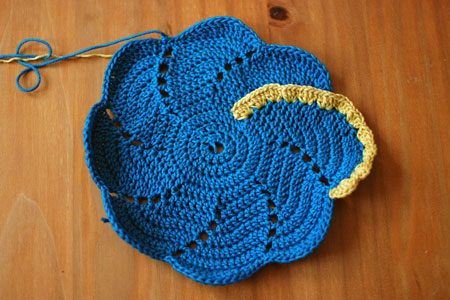 I never bothered to go into the details of how I am planning to make double-thickness potholders using the Pinwheel Rose pattern. Actually, I straight out lied when I said, "My current plan is to knit two identical 'rose bases' which will be held together with the outer bits of the edging you see in the photo (the inner bits will be on one side of the potholder only)."
The reality is that, because the rose is not symmetrical (see how those petals and eyelets swoop to one side?), the front and back of the potholder should be mirror images of one another. I didn't specifically say that because I thought, who would be reading my post that carefully? Who would be thinking about how the potholder will be put together that carefully?
Haha! Apparently I was wrong, and someone dinged me on it :). Attentive and astute readers get two thumbs up from me :).
So. Yes, the fronts and backs of the potholders will be mirror images of one another. The pattern doesn't have instructions for both, but I was somehow able to extract one from the other.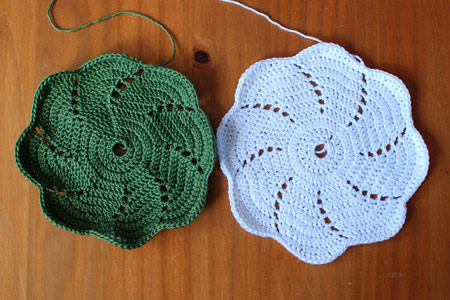 I decided that the clockwise swirls (green above) will be the backs of the potholders, and the counterclockwise swirls (white above) will be the fronts. (Side note: the white rose above is gently blocked, which is why it looks flatter and bigger than the green.) At this point I've crocheted all five fronts, and I'm at three plus a little bit as far as the backs are concerned.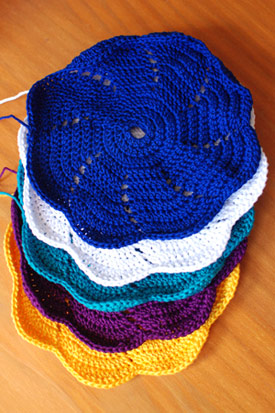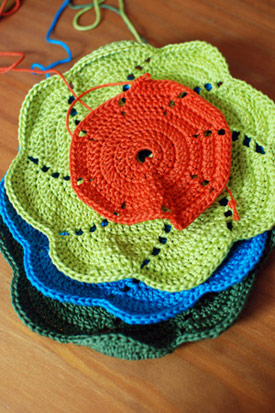 I have to approach the finishing of the potholders with some foresight, because as more and more edgings are added, it will be increasingly difficult to get in there and easily crochet. I might first attach the rosette, then crochet all 8 "inner" sets of edgings leaving long tails, and finally finish the "outer" edgings, attaching the front and back of each potholder in the process.
Please note that I'm clearly delaying this rather tedious finishing process: I haven't tried my plan on even a single set of potholders yet :). I'm just blissfully crocheting fronts and backs until, uhm, there are no more fronts and backs to crochet. At which point I suppose I will have to (reluctantly) deal with the finishing.
10
likes