I have received many inquiries regarding the pattern for these potholders. You can purchase the original pattern on Etsy. My modifications are detailed here and here.
I did not keep careful notes about my modifications. Also, the original pattern is copyrighted, so I do not have the liberty to reveal the construction details.  
I came up with my modifications by knitting the original pattern as written, and then tweaking it to make it fit for my yarn and gauge; it was an organic process. I think there is much to learn about how yarns and stitches behave by this kind of trial and error, and I encourage everyone to try!
Despite a gazillion other things going on, I'm so happy I persevered and finished these for the 2011 Potholder Swap (on Ravelry, on Flickr): they make me so happy! I'm also really pleased that I was able to crochet a shape other than a square, which was one of my goals for this year's swap.
Compared to my 2009 and 2010 potholders, I think these are the most vintage-looking ones to date, but I hope their bright colors make them at home even in a modern kitchen.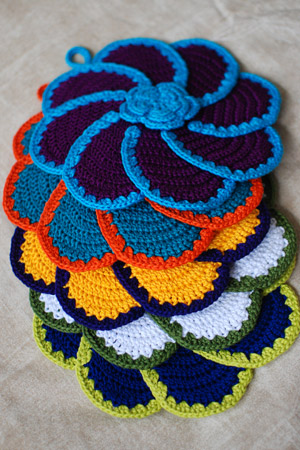 I even like the textured, though solidly-colored, backs!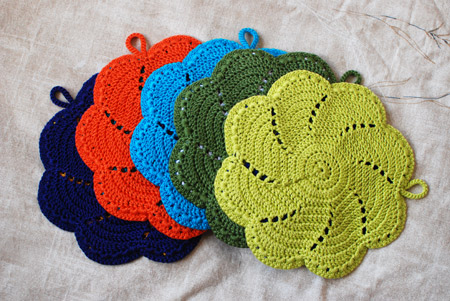 Pattern: Pinwheel Rose potholders. My modifications are detailed here and here. As usual, I blocked them with some steam from the iron, nothing more.
Yarn: Tahki Cotton Classic, 100% mercerized cotton. I wasn't as good this year at keeping track of the different colorways I used as I've been in the past. Some were half skeins from the stash, and others were freshly purchased. I know I needed just about a full skein of yarn to crochet the back, the rose in the middle, and the decorative ruffles. I suppose this we would call the "contrast color." Obviously less yarn for the front (main color).
Crochet hook: size C (2.5 mm) from this set
, which is still my favorite.
The one thing that wasn't particularly thrilling was the realization that two of the potholders came out the exact colors of two NFL teams: the Minnesota Vikings and the Miami Dolphins.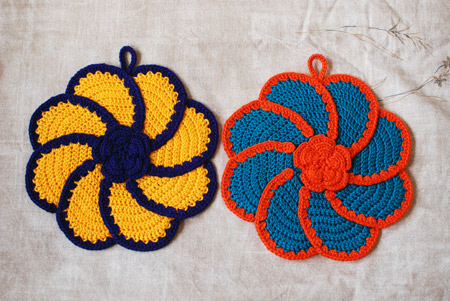 But for this I take absolutely no credit: I had my husband pair up the colors one late evening when I had simply exhausted all my energy for the day. Being a huge NFL fan, I think it was only natural that these color pairings emerged. I hope the NFL potholders will be loved all the same ;).
44
likes