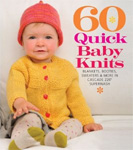 Just as I was commenting on my lack of desire to knit for my little one, I get this book in the mail: 60 Quick Baby Knits: Blankets, Booties, Sweaters & More in Cascade 220 Superwash. I can't say the projects make me specifically want to knit for my baby (I don't think any book could do that, unfortunately), but they do inspire me to pick up my needles in general!
60 Quick Baby Knits follows in the footsteps of 60 Quick Knits, which was an absolute favorite of mine last year. Here is my enthusiastic review. Like its predecessor, all the projects in the book are knit using the ubiquitous, hardy, versatile, and colorful Cascade 220. In the case of 60 Quick Baby Knits, the designers all used the superwash version of the yarn.
The patterns are wonderful. There are plenty of pullovers, cardigans, and blankets, but also hats, leg warmers, mittens, booties and socks. Of course a variety of skills, skill levels, and time/yarn commitments are represented, from a simple rolled edge hat to a classic fisherman's pullover. All patterns contain clear photographs, charts, finished measurements, and explanations of special techniques, if any are required.
I was pleased to see both clean designs, and ones with whimsical touches, such as off-center cardigan openings, colorful appliqué, and sewn lace details. In the extended entry I share with some of my favorites:
3 blankets (I love the hedgehog one!)
3 classic cardigans
3 sweaters which are a bit more fancy
3 items with delicate touches, such as lace and smocking (the Sweet Pea Cardigan is absolutely perfect, down to the curly tendrils hanging off of the hood; I think this may be my most favorite pattern in the whole book)
3 whimsical items (it is the sheep hat that prompted me to buy the book in the first place)
I hope you find the book as delightful as I did :). I wish it came with an extra hour or two a day!

Click on any image to view larger
0
likes