That was one of the longest unintended blog breaks I've taken – oops! I wish it was for some exciting reason, like gallivanting around the world or working on super exciting secret projects. Alas, I've just been very busy at work.
Fortunately, for my own sake, I've been able to carve a little time here and there to do some knitting. For starters, I'm nearly done knitting the Twisted Tree Pullover.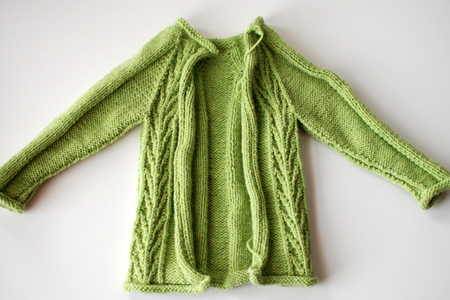 So far it's looking somewhat taller and skinnier than I anticipated. Maybe I messed something up when I re-did the instructions for a smaller size, or maybe it will bloom and stretch once blocked. I'll know soon!
I plan to give this cardigan the Budgie treatment, so I ordered some zippers from Zipperstop and picked up a few grosgrain ribbon options.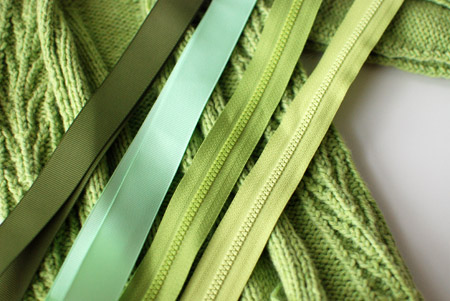 I may wait a bit to install the zipper, though, because I'm very close to finishing another zippered cardigan! Might as well do the two zipper installations together.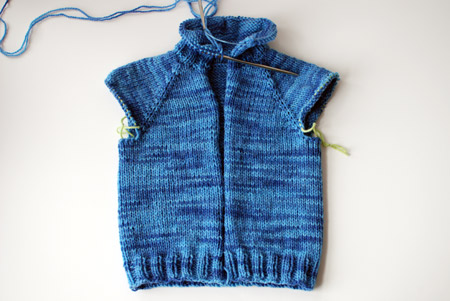 This is #982 Babies Neck Down Cardigan from Knitting Pure & Simple. Yes, I plan to put a zipper into this one, too. Is it strange that I think installing a zipper is way simpler than dealing with a button band/buttons? I don't mean it's physically easier – a good zipper installation takes a bit of finesse – but it's simpler to execute because there are fewer choices to make (how many buttons, what kind of button holes and how many stitches apart, which buttons, what kind of button band, etc.).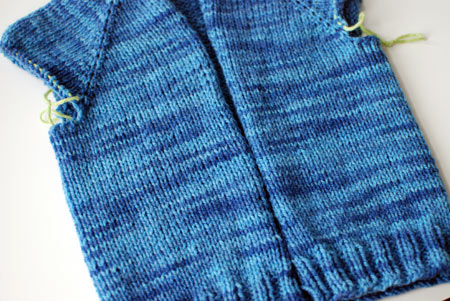 I'm using the hand-dyed cormo/nylon blend from Foxhill Farm that I showed you earlier, and it's working out much better in this simple stockinette pattern than in a more complicated stitch pattern.
Not that the stitch pattern has to be that complicated to compete with the hand-dyed variegation! An insightful reader named Kata recently left a comment regarding this. She said, "I think that reverse stockinette by default is more pattern-like than stockinette and this competes with the color changes in the yarn." I never thought about it this way, but I think she's right!
Lastly, I'm excited to get crocheting on some potholders! That's right: the third annual potholder swap is in full swing (on Ravelry, on Flickr), and I've got some new skeins of Tahki Cotton Classic calling my name.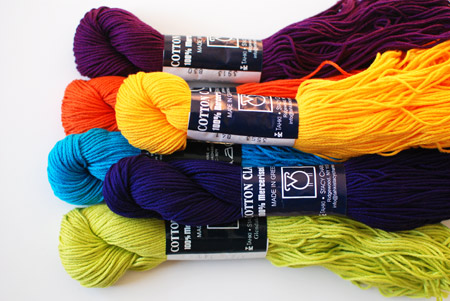 I don't know exactly what pattern I'll use this year. There are a few classic and stylish options in the "Handmade Crochet Book" that I used last year (I bought my copy of the book here
on eBay). I want to try a shape other than a square, though, which is what I ended up using last year and the year before. This is not the first time I'm making that resolution, so we'll see if it actually happens ;).
0
likes