Over the past few days, I've learned of more and more people who are expecting little ones in 2011. This is very exciting, and will surely keep my knitting needles busy! I hope to squeeze in some adult knitting, too (specifically, I've been itching to knit a lace shawl or scarf), but I think I'll have to play it by ear.
As for my own baby, I'm happy to tell you that everything is going according to plan, and that we're having A BOY!!! I suspected that this was the case from day one, just a bit of premonition or intuition or what have you :). We are delighted and excited! Here I am on the day we found out, at 19 weeks along (about halfway there!):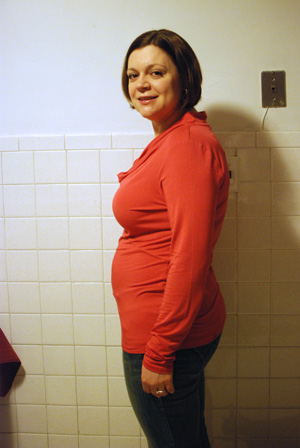 The item below is obviously not for my boy, but for a little girl of a friend who'll be making her appearance very soon: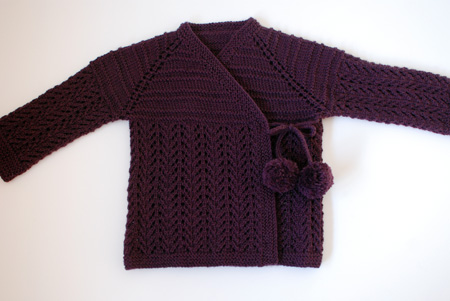 Pattern: Betty Lou Lace Cardigan from Kristen Rengren's Vintage Baby Knits
. Have I mentioned how much I love this book? My review/preview here. I knit the smallest size, 0-3 months, with only one modification: I substituted a different lace stitch pattern.
Needles: As recommended, US 2 circs (2.75 mm).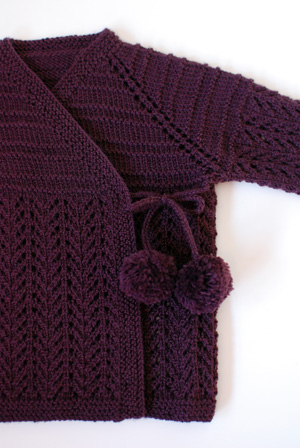 Yarn: Fingering weight 100% merino from Louet in the eggplant colorway. I used 3 skeins of yarn, but I have a feeling that I could get away with 2 (only 2!) if I omitted the pom-poms.
Speaking of pom-poms, many of you suggested I make my own templates out of a cereal box or use a business card. But if you know me, you know I cannot resist a nifty gadget
, especially if it's made by Clover :).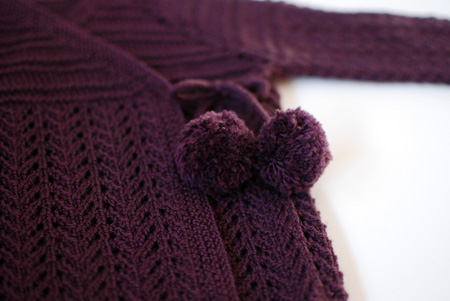 As expected, the trick to making super nice pom-poms was to use a ton of yarn, and then use some more, for good measure. In addition, I wet the finished pom-poms and then used a hair dryer to dry them and fluff them up. This separated all the individual plies of the yarn and solidified the center a little bit, making for a much more round pom-pom. Lovely!
0
likes