First, let me show you the beautiful potholders Yahaira made for me in exchange for those socks I showed you last time: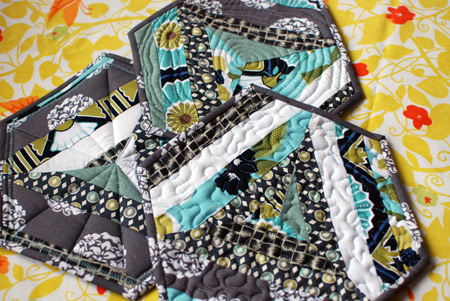 Thank you so much, Yahaira! They are large and thick and extremely functional. The matching fabric coasters are already being used!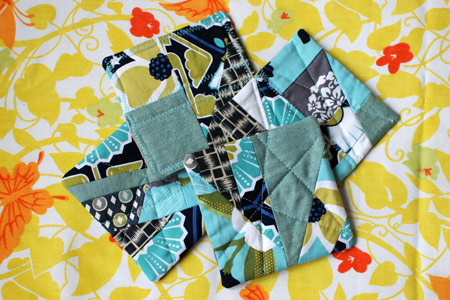 Next up, a quick non-wooly hat I whipped up for myself earlier in the month: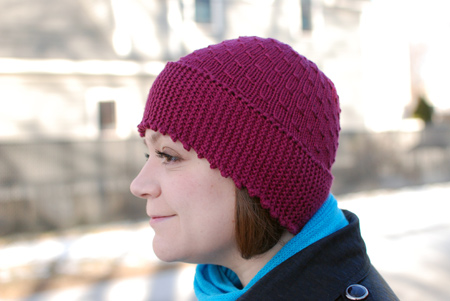 Pattern: Picot Edge Hat by So Much Yarn, So Little Time! Carolyn. Free pattern on Ravelry.
Yarn: Ella Rae Bamboo Silk, 70% bamboo viscose, 30% silk. I used 1.5 skeins of #22 wine colorway. This is a wonderful yarn, extremely soft, silky, and drapey (still on sale at WEBS where I got it). I was afraid that the fabric would stretch a lot when wet, so I did not block this hat.
Needles: I didn't note the size I used, unfortunately, though I think it was a US 6. I know I modified the pattern to be worked over fewer stitches (90 instead of 114) because my yarn is heavier. The numbers were really easy to figure out because the garter stitch brim is knit first, which you can make as long or as short as you want. Then the stitches for the rest of the hat are picked up (make a few increases if necessary so they're a multiple of 6).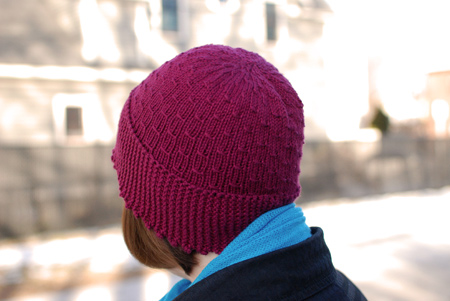 This is my new favorite hat to wear in the 35-45F temperature range! I made the hat nice and long so it covers my ears and neck, and the non-wooly fabric keeps me itch free. It's a little too late, but I think this would also be a wonderful last-minute Holiday gift because the hat literally took me two evenings, start to finish.
0
likes