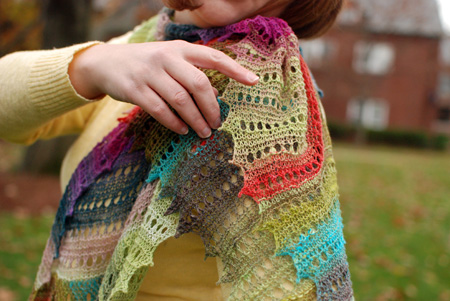 I'm excited to tell you about my newest scarf pattern called Volna which means "wave" in Russian. You've seen bits and pieces of it here and there, and after several months of knitting, I'm finally able to share it with you.
Click on any picture to view larger.
Now you see why it took me so long – I knit three separate versions!
Here are some details:
Short rows create a sense of movement in the fabric of the Volna scarf. Simple eyelets and a serrated border enhance the effect, allowing the eye to follow the progression of knitting, from row to row, wave to colorful wave. The pattern works up quickly: it is garter stitch-based (so, the scarf is reversible and there's no purling!), easy to memorize, and very addictive!
The pattern is well-suited for yarns with long stretches of color, such as many yarns by Noro, Crystal Palace, Plymouth, Regia, Opal, and Schoppel Wolle. Using a solid or semi-solid yarn would create a beautiful version as well. There are instructions for three widths – narrow, medium, and wide – and each width can be knit using a variety of yarn weights, from laceweight to bulky. You can envision and create an endless number of possibilities, from a wispy spring scarf to a cozy winter shawl!
Techniques used in this design: basic lace knitting, increases and decreases, short rows, reading charts.
Everything you need to know about yarn, yardage, gauge, finished size, etc. of the three Volna versions featured in the written pattern is in the chart below:

The pattern is now available for purchase through Ravelry, payment via PayPal (account not needed for either one)

US $6.00
Special thanks to my test knitters Anne, Melissa, Bonnie, Jessie, Ann, and Li, and to the ever-resourceful and keen-eyed Stacie for tech editing.
2
likes