Have you noticed this weather we're having?!? Amazing! Cool and crisp in the mornings and evenings, sunny and warm during the day. I keep reminding myself that we have only a few weeks of this. "This" being weather that's perfect for wearing scarves without hiding them under winter coats!
It's all I've been thinking about lately: scarves. One pattern in particular has been occupying much of my spare time: Cosmicpluto Laura's Massey Wrap.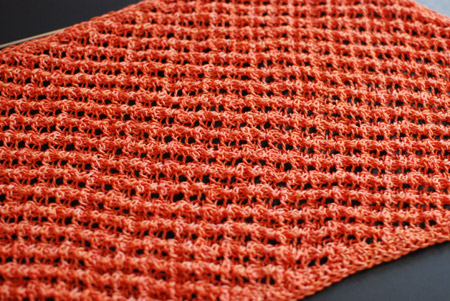 This is a fantastic pattern, chock full of clever details. Allow me to list them for you:
The scarf is based on a stitch pattern from Lynne Barr's Reversible Knitting (my review here). So the scarf looks great from both the right and wrong sides.
The stitch pattern has a slight element of ribbing to it: the fabric is scrunched easily and doesn't roll onto itself. At the same time, because the scarf is knit on the bias, it doesn't draw in as a typical ribbed scarf would.
An i-cord is worked along both edges, adding a neat finishing touch.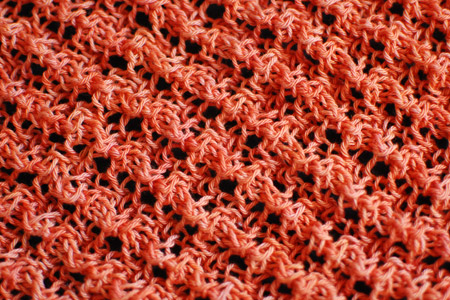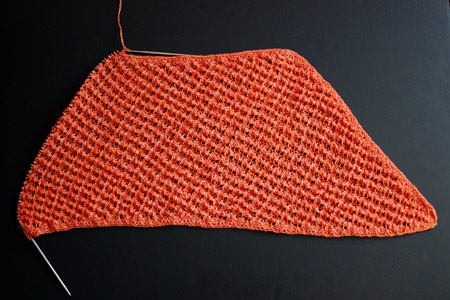 I'm using Araucania Yarns Lonco, fingering weight 100% mercerized cotton, 440 yards per 100 gram skein. I got 2 solid-colored skeins of color #3003, tangerine at ImagiKnit during my trip to San Francisco last summer. The cotton yarn lends a great drape and weight to my scarf. I recently noticed elann has this very yarn and colorway on sale, at a very nice price.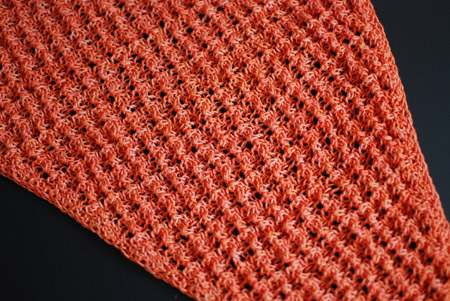 The yarn is subtly variegated, adding yet another dimension to this already highly textured fabric. What's more, the two skeins of Lonco I'm using are slightly different (well, noticeably so), and from the very beginning I've been alternating them every two rows. Two alternating skeins of subtly variegated yarn = true beauty.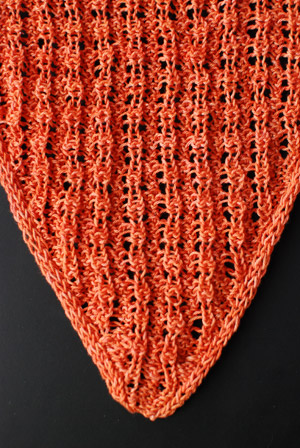 I've been carrying up the unused yarn along the side of the work, and I'm very pleased with how well the attached i-cord hides this ;). I wrote up more specific instructions in this post on Ravelry. The only minus to this whole alternating skeins business is that this otherwise portable project is relegated to my couch – carrying around two huge skeins of yarn, which are somewhat prone to tangling, is a bit of a headache. In any case, I can't wait for this scarf to be finished so I can wear it! I just hope it's before I'm forced to hide it under a winter coat ;).
0
likes