Just wanted to share a super simple pair of socks I knit for my grandma about a month ago.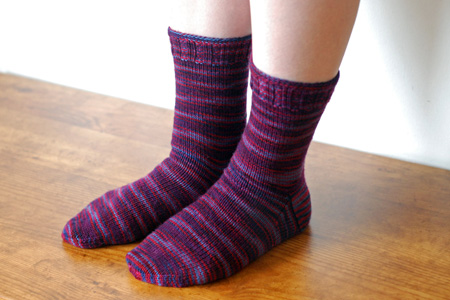 The yarn is Nichole by the Schaefer Yarn Company, 80% extrafine superwash merino wool, 20% nylon. Long time readers know that I've had mixed success with using Schaefer yarns in the past, but Nichole is a winner!
First, I was completely drawn to the color, Vanessa Bell, because it's perfect for my grandma. Second, the yarn has this wonderful thickness, like a very plump and firm fingering weight, but not quite sportweight. Using 2.5 mm INOX dpns (that's like a US size 1.5), I got a gauge of 7.5 stitches and 10 rounds per inch. The socks feel like they're made for puttering around the house in the winter – thick and sturdy.
Considering the thickness, the skein put-up (405 yards in each 5 oz. skein) is actually very generous – I had a ton left over after knitting this pair! And even though it took me several months to finish the socks, the actual knitting went very, very quickly – I just dragged it out because I was distracted by many other projects :).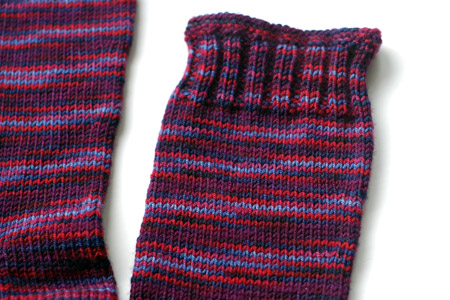 I originally wanted to knit this yarn into a slightly more complicated sock pattern, but the color variegation demanded a very simple stockinette sock. No problem! A little ribbing, a few decreases, and then knit a tube over 56 stitches.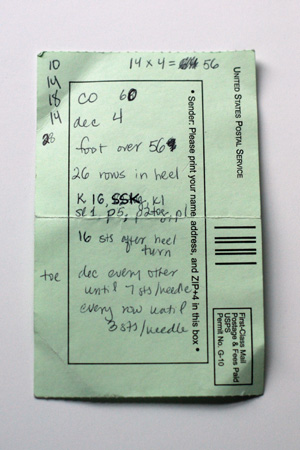 It's so funny that when I write an official sock pattern, it's never less than 3 pages long, but when I'm jotting down notes for myself, a few words and numbers scribbled on a postal office receipt is all I need ;).
0
likes