As all booms do, the latest baby boom is coming to a close. Most of my friends and co-workers have had their babies, and many of these babies have already outgrown their handknit gifts, of course. But that's how these things go ;). All total, I've knit 18 baby items between October 2009 and now.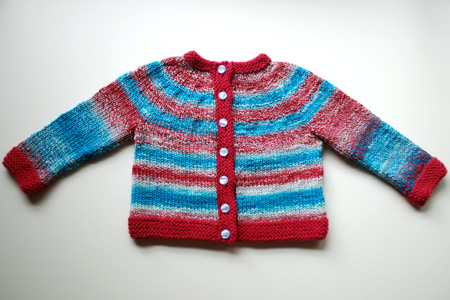 There's just one more, the 19th, that I have to share with you, which is for Stephanie's little walnut, due to arrive in a few weeks. After that, I intend to re-train all employees of GFOAB (the Grumpy Factory for Outfitting Army of Babies) to knit grown-up things. Because, frankly, I think we've forgotten how to do that ;).
Pattern: No pattern, but I knit this sweater to Budgie dimensions, omitting the stripes, the zipper, and the contrasting cast-on.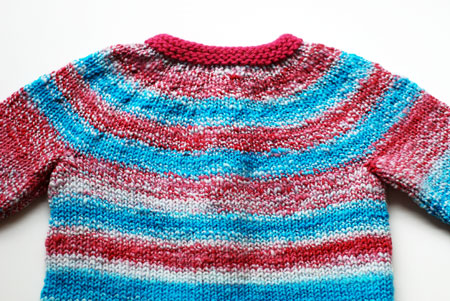 Yarn: Hand-dyed and handspun superwash merino in the Retro Kitchen colorway from Missy, A Tree Hugger's Wife on Etsy. The sweater used up about 250 yards of yarn. This was a custom order that I told you about a little while back. I loved working with this squishy, soft yarn, and I love how it knit up into these beautiful wide stripes! The contrast yarn is Berroco Vintage, acrylic/wool/nylon blend, in Sakura (5166). I thought these two made a good combination because they are both machine-washable.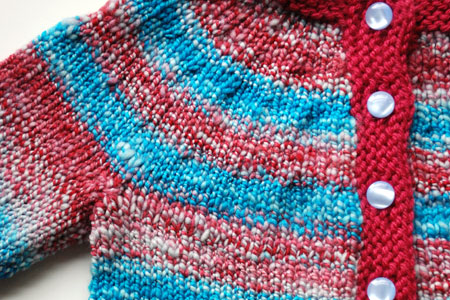 Needles and gauge: using size US 6 circs this yarn knit to about 5 stitches and 8 rows per inch after blocking.
Finished dimensions: about 20″ chest circumference, 9.75″ from hem to shoulder, 7″ from cuff to armpit. This should fit up to about 3 months, just in time for little walnut to wear in the fall.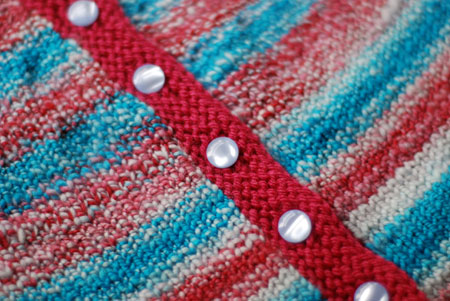 The buttons are another perfect match from Windsor Button. I know they look white/clear here, but they are actually a very subtle blue when not attached to the sweater!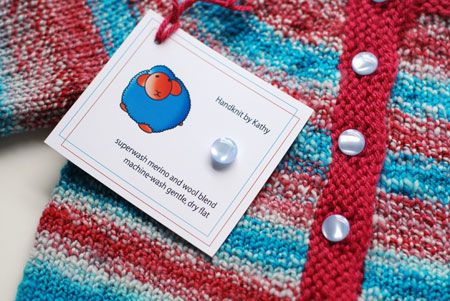 For gifts, I always attach a care tag and an extra button. I make these tags in Illustrator (you can use any text + picture software, like Microsoft Word or Paint) and print them on heavy-weight matte photo paper. The little sheep I drew in Illustrator eons ago based on some picture, I didn't get the actual drawing from anywhere.
And that's that! That's the end of baby knits for now. Get ready for some socks, a shawl, a fixed-up vest, and a knitaversary contest!
0
likes