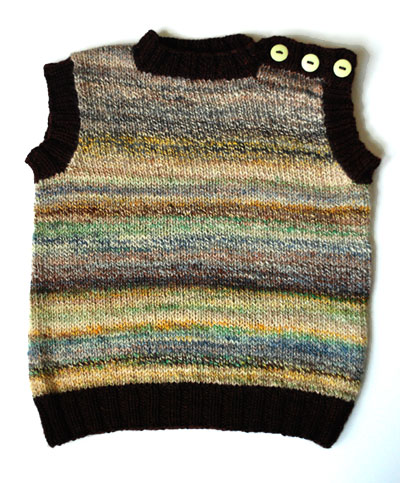 If the silhouette of this… baby casing (hee!) looks familiar, it's because you've seen it before! It's basically the wee-est vest, except out of handspun and without colorwork. So cute!
Pattern: based on the Archie Vest from Kristen Rengren's Vintage Baby Knits
(my review/preview here).
Yarn: handspun superwash Bluefaced Leicester wool, approximately 210 yards. The fiber was dyed by Amy at Spunky Eclectic, and spun by my talented friend Stacie (see more handspun goodies in her Etsy shop). The colorway is called "Duck." The contrast yarn is Malabrigo Sock, 100% superwash merino in Cordovan (810), held double.
The Bluefaced Leicester is a beautiful, strong wool, but I'm not sure it's next-to-the-skin soft for a baby. So it's an added bonus that the contrasting Malabrigo Sock yarn, which is so soft and delicate, covers all the skin-touching edges.
Needles and gauge: using size US 5 circs this yarn knit to about 5.5 stitches and 8.5 rounds per inch after blocking.
Finished dimensions: 22″ chest circumference, 12.5″ from shoulder to hem. This is actually not so wee: should fit a 12-month-old baby, I think.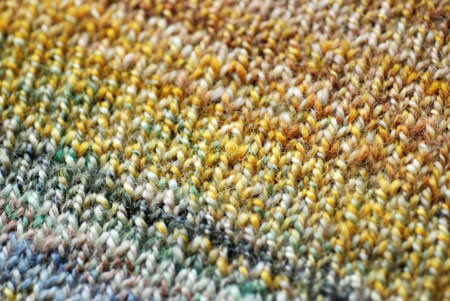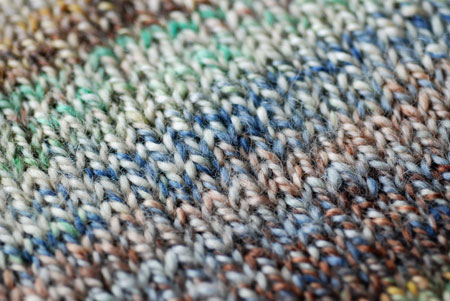 As before, I knit the vest in the round until the armholes. And let me tell you, there's nothing more pleasurable in this whole wide world than knitting handspun yarn, in utterly simplistic stockinette, on a circular needle, in the round. JOY is the only appropriate descriptor.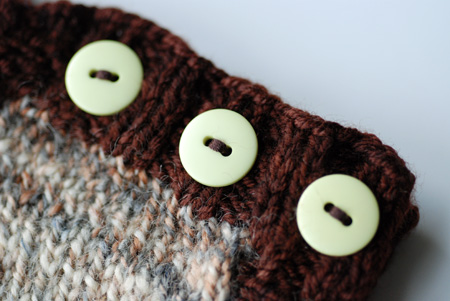 Once again I added a button band along one of the shoulder seams to allow more room for the head. The light-light yellow/green buttons are from Windsor Button, of course. Now that I've completed two of these vests, I think I've also decided that the neck hole opening can be placed lower, so I'll be sure to incorporate that in the future.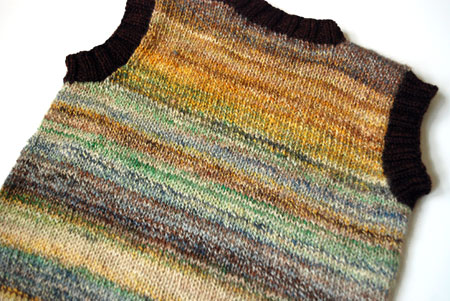 I was really happy to be able to incorporate some of the bright yellow bits of this yarn into the vest, albeit into the back ;).
0
likes