For two twin girls due to make their appearance in just a few days!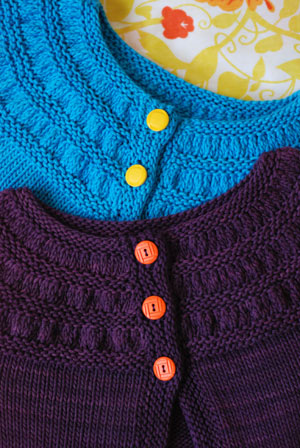 Pattern: Tiny Tea Leaves Cardi by Melissa LaBarre for Madelinetosh.
Yarn: Araucania Ulmo 100% cotton in Bright Turquoise (767) and Medium Purple (759), 2 skeins for each sweater. Read my quick summary here before hitting WEBS, where it's still on a great sale!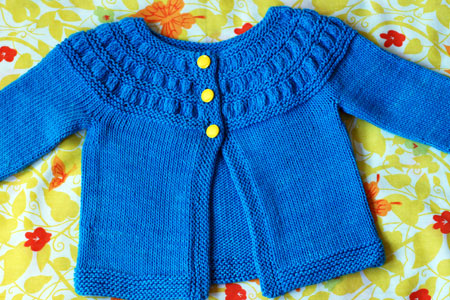 I got really lucky with the Bright Turquoise: the two skeins were indistinguishable in color, and I didn't have to alternate balls every two rows. Medium Purple didn't have such luck, and you could clearly see the color difference between the two skeins. I alternated the balls every two rows, except for the yoke and garter stitch sections, where I used one skein or the other. I think you can see the subtle stripes in the photo below.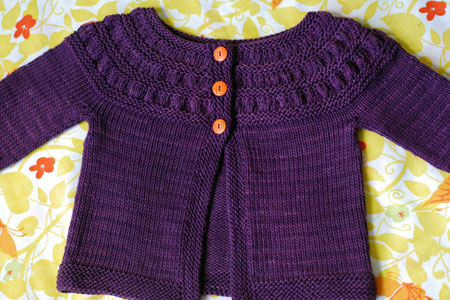 Needles: While the yarn label recommends US 5 needles for Ulmo, I found my stockinette to be a little too dense if I used them. So I went up a size to US 6 for the main part of the sweater (the stockinette). My gauge was 5.5 spi and 8 rpi. The garter stitch sections were knit using US 5 needles for a little extra oomph in the ruching.
Gauge and size: The smallest size in the pattern is to fit a 2-year-old, but I was aiming for something in the 6-months range. So I used a thinner yarn than recommended, followed the directions for the smallest size when it came to stitch counts, and Budgie numbers for the inch dimensions. I ended up with a sweater that's approximately 21″ across the chest, 10.75″ from hem to shoulder, and 7.5″ from sleeve cuff to armpit.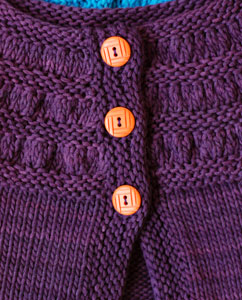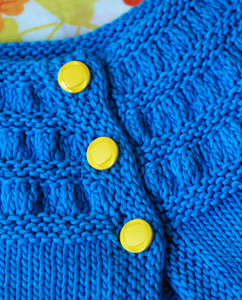 The buttons are my favorite detail! As I mentioned, I chose somewhat nontraditional "baby girl" colors, and wanted to make sure the buttons were bright and cheerful! As always, Windsor Button to the rescue! I personally love both choices, and I hope the baby girls love them, too ;).
0
likes