I gave the Tatamy Harvey Kimono to the expectant mom earlier this week, and she seemed really delighted with that cute little sweater!
As a side note, I'm a little bummed that summer arrived so quickly this year: my friend is due in a few weeks, and I was hoping she'd get some use out of this cotton newborn-sized sweater during May and June. Last year temperatures stayed quite low until July, but my wishful thinking wasn't enough to keep the trend going this year, I think. Le sigh…
While excited about Harvey, she did express to me that she wanted a little hat for her boy for the fall. I sprung into action! My friend is a beginner knitter, and following the whole "teach a man how to fish" mentality, I hit Windsor Button for basic hat supplies. The following day she was set up with a skein of Debbie Bliss Baby Cashmerino, some Clover US 3 circs, and a basic Debbie Bliss baby hat pattern (my friend is currently more comfortable with back-and-forth knitting, so Debbie Bliss was perfect).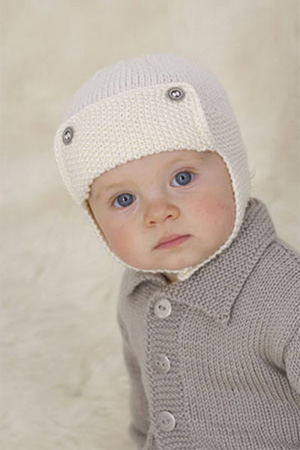 But I couldn't well enough leave things at that. Of course I wanted to knit her baby a hat, too! Since I was already at Windsor Button, I was able to pick out and buy all the necessary supplies in an instant!
I turned to Sublime. Yes, the same Sublime about which I was complaining just a few months ago. It's the cute babies, I tell you! They get me every. single. time! This time around I didn't muck around with altering the pattern for a different gauge, though, and my yarn choice was much more appropriate than Elann.com Lara. And things worked out just fine!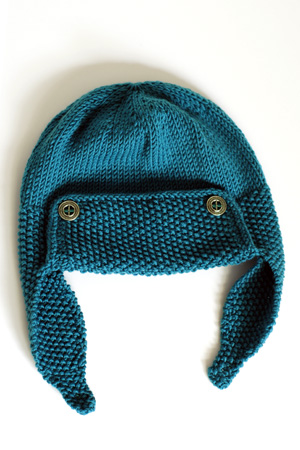 Pattern: Retro Flying Helmet from the Little Sublime Hand Knit Book.
I knit the 6-12 months size. The hat circumference came out to be 15¾", exactly as specified in the pattern. I knit the pattern as written except for the main stockinette portion, which I worked in the round rather than flat. I still found the instructions a little bit awkward and the absence of diagrams annoying when it was time to put the whole thing together. But overall, not nearly as bad as when I was struggling with the Lifeguard helmet & Tugboat coat (which leads me to believe it was more the yarn and pattern modifications than the pattern itself).
Yarn: Sublime Extra Fine Merino Wool DK, shade 64 (plume). I needed to dip into a second skein for the crown decreases, even though the pattern specified that I'd only need 1 skein. Good thing I was able to find a second skein of the same dye lot at Windsor Button! Whew!
Needles: Whatever the pattern specified, I think US 3 and US 6. My gauge was as specified, too (22 sts and 28 rows per 4″).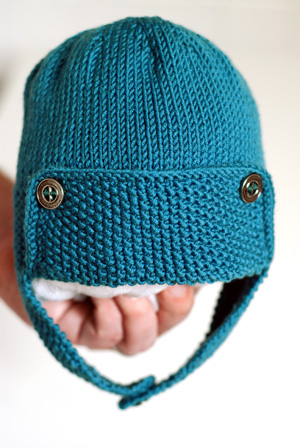 While the finished hat is cute, it doesn't look like much without a cute baby wearing it. A scarf stuffed inside will have to substitute for now :).
3
likes