I'm starting to really appreciate thematic knitting books (such as an entire book devoted to Cascade 220 accessories, or the brioche stitch). I don't know about you, but my knitting book (and magazine, and individual pattern) collection is significantly more impressive than my stash. The opportunities to get "lost" are endless. You know how it goes… you start looking for a vest pattern in sportweight yarn, and the next thing you know, you're casting on for a lace scarf. That can be a wonderful thing, don't get me wrong. But a few carefully-placed thematic books can help me regroup and regain focus.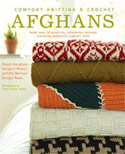 Incidentally, it was during one of these "lost" episodes (which spilled over into browsing Ravelry) that I first encountered Comfort Knitting and Crochet: Afghans
. This book is doubly thematic: all the patterns are for afghans, and all of them use Berroco Comfort, a nylon/acrylic blend yarn available in a variety of weights.

I knew this pattern collection would be a great addition to my library because I don't have many books entirely devoted to afghans, throws, blankets, etc. That, and the fact that so many of my friends are expecting! Between December 2009 and September 2010, I have 14 friends who gave or will give birth. And with babies, one needs blankets. Stat!
Needless to say, I love the book. So much so that the day after I received it in the mail, I walked straight into Windsor Button and picked out some Berroco Comfort to start a blanket. But more about that later…
First, a brief recap. As the title tells us, the book contains more than 50 crochet and knitting afghan patterns using Berroco Comfort. I really appreciate the diversity of projects contained within:
For starters, both crochet and knitting are represented.
There are several patterns for baby blankets (about 30″ x 36″ in size), many patterns for standard throw blankets (about 45″ x 60″ in size), and a few patterns for even larger blankets.
There are patterns for afghans knit or crocheted in one piece, though most are seamed from smaller squares, hexagons, circles, etc. From the comments I received on this post, I think that's preferable.
Many different techniques are represented, from the most basic single crochet and knit-purl patterns to cables, stranded knitting, Tunisian and broomstick crochet, lace, and embroidery.
The book contains designs to suit just about any taste: modern, colorful, edgy, simple, or traditional. This range is largely accomplished by clever combination of pattern and color: with almost 90 (!) colorways of worsted-weight Berroco Comfort available, anything is possible!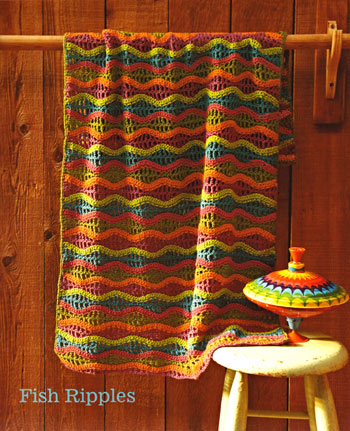 You can see the variety of patterns in the extended entry, and you can visit the other stops on this book's blog tour for more reviews, Q&A posts, etc.:
April 8: Me! You're here!
April 9: http://blog.yarn.com
April 12: http://blog.yarn.com
April 13: http://goknitinyourhat.blogspot.com
April 14: http://www.alabamachanin.com/journal
April 15: http://www.craftgossip.com
April 16: http://www.thehookandi.com
April 20: http://needled.wordpress.com
April 21: http://to-be-charmed.com
April 22: http://www.houseonhillroad.com
April 23: http://www.knitgrrl.com
April 24: http://www.crazyauntpurl.com
April 25: http://www.belleepoquewhimsy.com
April 28: http://www.knitandtonic.net
April 29: http://whipup.net
Now let me tell you a little bit about Fish Ripples. This pattern caught my eye for a number of reasons: it's fairly small (30″ x 36″), so it's quick to crochet and not a huge money investment (only 6 skeins of yarn, at something like $6 per skein). I think the colorful design and size make it a lovely baby gift. Plus it's crocheted! Finishing the potholders seems to have revitalized my crochet mojo :).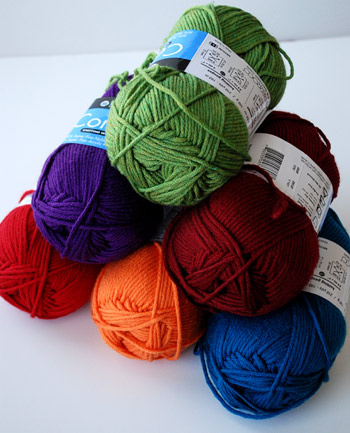 Berroco Comfort worsted in Gooseberry Heather/9791, Purple/9722, Beet Root/9760, Primary Red/9750, Kidz Orange/9731, and Agean Sea/9753.
I really love the colors in the original pattern, but I wasn't able to find all of them at Windsor Button, so I had to substitute. Truth be told, I wanted the colors to look a little less "Fisher Price" than what you see above, if you know what I mean. But at the same time I like the idea of super bright primary colors combined all together, especially if the blanket is crocheted out of acrylic yarn ;).
By the way, I considered two other Berroco yarns for this blanket, similar in weight, yardage, and price to worsted-weight Comfort and also available in bright, juicy colors: Weekend (75% acrylic, 25% cotton) and Vintage (50% acrylic, 40% wool, 10% nylon). These might be good options for those who want some natural fiber content while keeping their project machine-washable. For my blanket, I decided to stick to the recommended Comfort, because I wanted to find out for myself what makes this yarn worthy of an entire collection of afghan patterns!
Berroco Comfort is soft and plush, and quite nicely approximates the look and feel of a superfine merino yarn. I wouldn't say it actually feels like merino, but it doesn't feel slick or squeaky, either. I think you just have to touch it for yourself :). It behaves well while being crocheted, creates a lovely fabric, and holds up to frogging. In my hands it's very splitty, however, and I have to be exceptionally careful to grab all the plies while working with it. I have a feeling that I'd have a much easier time if I was knitting it, especially if I was doing so using Bluti Stumpos. I think it comes down to the fact that Berroco Comfort is machine-washable, comes in several different weights and dozens of colors to make it a great choice for blankets.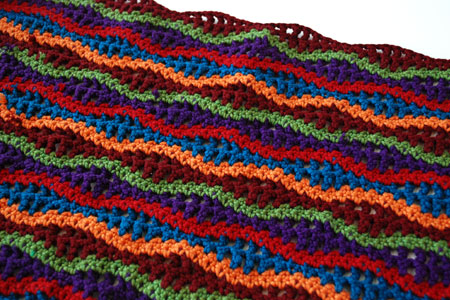 Having chosen my yarn and colors, I got to work on the Fish Ripples blanket. To be honest with you, the first few inches were a bit of a nightmare. The pattern is really simple, but I had a hard time following along without a chart. On every row I had either too many or too few stitches! Finally, I took a moment and jotted down a quick chart, and the whole thing turned around, just like that. I am cruising! It is so simple and enjoyable! I'm weaving in the ends as I go along, and I hope to be done in no time ;).

Click on any picture to view bigger
0
likes