Colorful nuggets of goodness, that's what these are!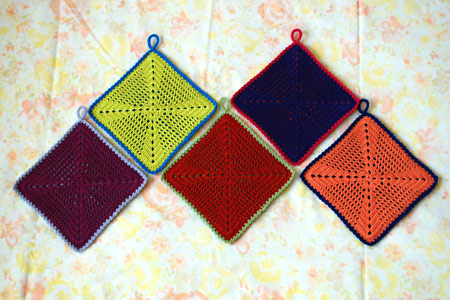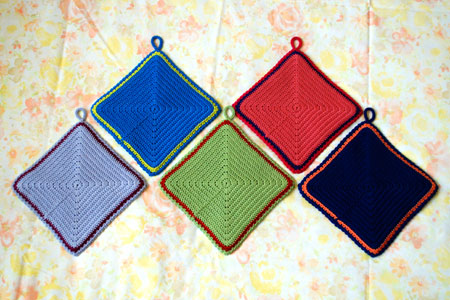 The 2010 potholders for the swap (on Ravelry, on Flickr) are complete! Much like the ones I crocheted last year, I am so happy with how they turned out.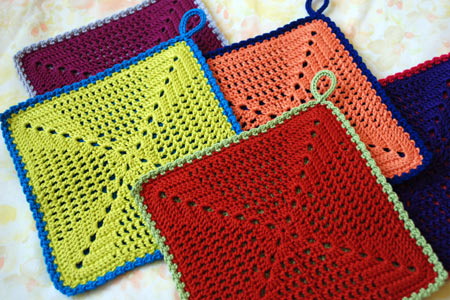 Pattern: Motif #6 from "Handmade Crochet Book." I purchased my copy here
on eBay. The back is Solid Square (#149) from 200 Crochet Blocks
.
Following a charted Japanese crocheting pattern is a piece of cake and a non-issue, really. No knowledge of Japanese was required, so I was good to go immediately. I was even able to extend the pattern by several rounds to make it a little bit bigger without any trouble.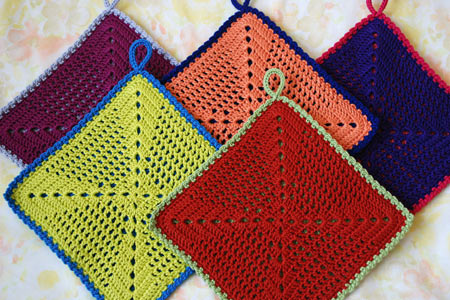 Because I crocheted square potholders for last year's swap, I wanted to try a new shape this year – circle, hexagon, or triangle… anything other than a square. And I found many excellent potential patterns which fulfilled that requirement. Unfortunately, as you can clearly see, I ended up crocheting another set of square potholders. FAIL! Oh, well, there's always next year ;).
Yarn: Tahki Cotton Classic, 100% mercerized cotton, 108 yds/50 grams. Less than 1 skein of each of the following: 3352 (orange), 3407 (tomato red), 3418 (magenta), 3453 (coral), 3701 (light green), 3723 (acid green), 3806 (bright medium blue), 3873 (dark blue), 3933 (light purple), 3940 (dark purple). There was also a tiny splash of 3456 (deep pink) for one of the borders when I ran out of 3453 (coral).
I am beyond thrilled that 90% of this year's potholders were crocheted using leftover yarn from last year's swap. Not because I'm particularly thrifty or anything like that… At this point, after two potholder swaps, my stash of Tahki Cotton Classic is basically down to zero. Which means I get to choose all new colors for the next swap!
Crochet hook: size C (2.5 mm) from this set
, which is still my favorite (use code HPF114 for 50% off).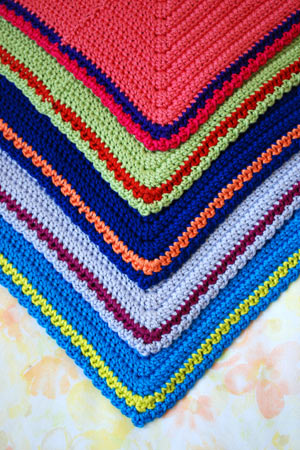 Finishing and finished dimensions: First, I connected the front and back with a round of single crochet using the front color. Then I crocheted the two edging rounds (straight from the pattern) using the back color. While working the edging, I added a little loop. I steamed the potholders to flatten them and coerce them into 7″ squares.
And now the best part: what will I receive in exchange?!? (I received these beauties last year = love!)
1
like