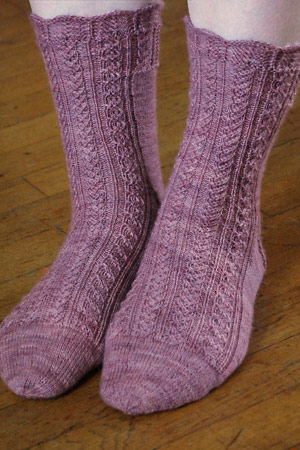 Pattern: Estonian Socks by Nancy Bush, from The Ultimate Sock Book
by Vogue Knitting.
The pattern is beautiful, and very easy to knit without a chart once you get the hang of it. It still took me four months to finish this pair of socks, but that's mainly because I'm scrambling to outfit an army of babies.
Needles: Susan Bates dpns
, US 0.
Yarn: Paddington handpainted sock yarn, 100% British Blue Faced Leicester 3-ply superwash wool, Ashes of Roses colorway (422 yards, 3.5 oz). The yarn vendor is Mocha's Fiber Connection in Colchester, CT, and I purchased this skein at the 2009 New Hampshire Sheep & Wool Festival.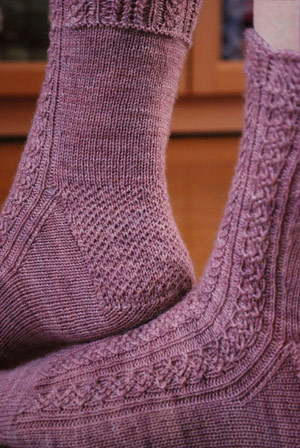 I didn't find working with BFL particularly different than working with merino, but I was happy to have the experience nonetheless. The fabric is lovely, and feels very durable. This particular yarn is definitely on the thin side – my gauge was 9.5 sts and 13 rounds per inch, eek! That's the main reason I went with the Estonian Socks pattern: it's written for 9 sts and 12 rounds per inch, while most other sock patterns use an even larger (or is it smaller?) gauge. I ended up omitting a few calf decreases to make a comfortable foot circumference, and worked the foot over 76 stitches.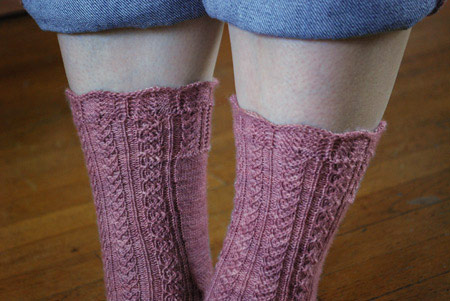 So, it's very easy to see that these socks are an approximate reincarnation of the Traveler's Stockings I knit many years ago: same designer, similar scalloped edge and yarn color, twisted stitch design elements. And you know what? I loved knitting both patterns :). Interestingly, neither sock pair ended up with my grandmother, an obvious candidate for receiving anything "dusty rose". The Traveler's Stockings went to my great aunt, and these Estonian Socks I gave to Stacie who's a crafty superstar, and has been helping me with all sorts of things lately. I hope she enjoys them!
0
likes