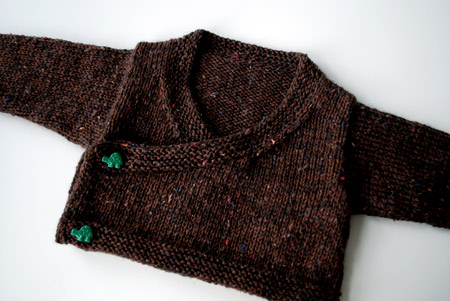 If you remember, I put up with a lot of annoying fussiness (and that's the worst kind of fussiness, don't you agree?) before casting on the Harvey Kimono. Wow, what a difference! Simple and intuitive construction, with clear and concise directions: that's all it takes to make me happy :).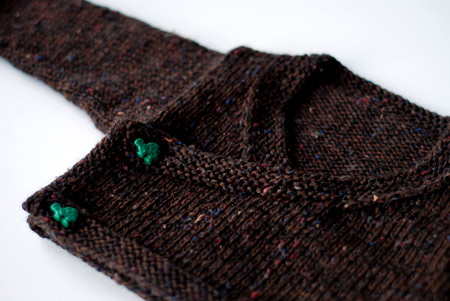 Pattern: Harvey Kimono from Natural Knits for Babies and Moms
by Louisa Harding. I knit the smallest size, newborn. (But not before I cast on for the largest size, up to 12 months, only to realize that there's no way I would have enough yarn. We all know I have a problem with that type of thing.)
To tell you the truth, I modify every pattern that I knit, even those about which I say, "I knit this without changing a thing!" It's just that there are some patterns, like the Harvey Kimono, where the changes are so miniscule, they aren't even worth mentioning (here, reinforced buttonholes instead of basic ones, narrower side edging because I was running out of yarn). So, "I knit this without changing a thing!" Heh.
Yarn: Kraemer Yarns Tatamy Tweed DK (45% cotton, 55% acrylic, 250 yards per 100 gram skein) in Walnut, 1 skein. Yes, just 1 skein! The cost effectiveness of this is tantalizing!
Needles, gauge, and finished size: As recommended in the pattern, US 5 (edgings) and US 6 (main). My gauge ever-so-slightly differed from the one in the pattern: 20.5 sts and 32 rows = 4″. So, the finished sweater is a little bit wider than prescribed: about 17.5″ around the chest, 7.5″ from hem to shoulder, and 6.75″ from cuff to armpit.
One of the great things about this pattern is that it tells us to knit 4 buttonholes, 2 on each front, so we can overlap the two flaps in whichever way we see fit. I chose "left over right," and adorable turtle buttons.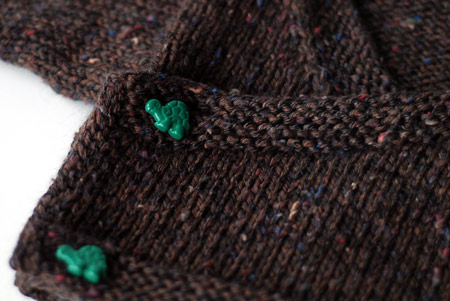 However, I was puzzled by the request to attach 4 buttons – I couldn't figure out the best way to handle those which would be on the inside of the sweater. No matter how carefully I stitched, the spots where the two inside buttons were attached dimpled. So, instead I sewed on one big button and a loop of trim. It just made more sense to me.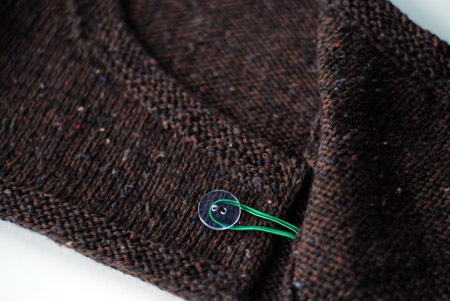 Overall, a quick, easy, satisfying and destined to satisfy knit! And another gift checked off the (seemingly always-growing) list.
1
like