Thank heavens for this blog. If not for this blog, I wouldn't have been compelled to dig out the Moderne Baby Blanket from the work-in-progress basket (where it had been marinating, untouched, for no fewer than two weeks), so I could take a picture to share with you. Because once I unearthed it, I was shamed by how close I was to finishing. How close? About 1.5 rows of knitting, then the final bind-off, and the border. Most of the ends had already been woven in. For real.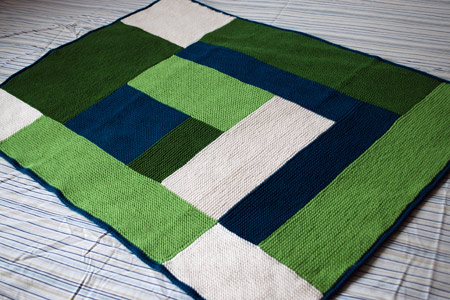 Pattern: Moderne Baby Blanket from Mason-Dixon Knitting
.
I made small changes to the pattern as I went along, based on the amount of yarn I had available. But the overall construction is true to the original. The only notable change is that instead of knitting the border, I crocheted two rounds of SC: the idea of picking up hundreds of stitches only to bind them all off three rows later terrified me.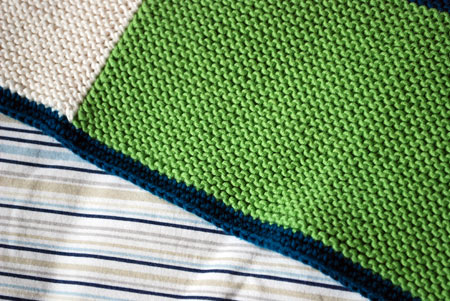 Needles: US 6 circs, INOX express and KnitPicks nickel-plated Options.
Yarn: Gedifra Korfu (white 2025, light green 2011, dark green 2068) and Classic Elite Sundance (Peacock Feather 6249). Both yarns are 50% cotton and 50% microfiber, about 85 yards per ball. Though the yarns are similar, they are not exactly the same. (And, of course, I prefer the discontinued Korfu. Of course.)
I'm not sure how much of each color I used. My scale weighs in the finished blanket at 1 pound and 10.5 ounces (750 grams), which comes out to 15 balls of yarn total. The finished size of the blanket is about 38.5″ x 30″, just a little bit larger than specified in the pattern.
The blanket is hefty, but it didn't become the sort of suffocating monster I once envisioned. It's actually quite soft, fluffy, and cushy! Despite Gedifra and Sundance label instructions (both yarns indicate machine-wash cold, dry flat), I tossed the blanket into the washer and dryer. I think the dryer helped with fluffiness :).
Someone asked if I tested each of the yarns for colorfastness before knitting them all together. I hadn't. I didn't anticipate any big surprises because dye did not come off on my hands while I was knitting. In the end, Classic Elite Sundance did bleed a little bit onto neighboring light-colored sections. But not enough to make me worry about ruining future washes.
What I like the most about the finished blanket are the tidy lines between the different blocks. I found myself paying a lot of attention to that as I was picking up stitches, making sure that the connections would be as straight as possible. Since half a stitch or an entire stitch is lost during the process, I often picked up one more stitch than the pattern specified. I also like that the back side of the blanket looks almost as neat as the front!
(click for bigger)
I enjoyed knitting this blanket, but I'm not sure I would knit it again. Each section is connected to the one worked before, so very quickly the project becomes a giant undertaking: not easily maneuverable, and not at all portable. Garter stitch compresses greatly in the vertical direction, making noticeable progress that much slower. I think knitting something like the mitered square blanket is easier for me, since it's worked in manageable parts (but not so many that the seaming would make me go bonkers). How about you?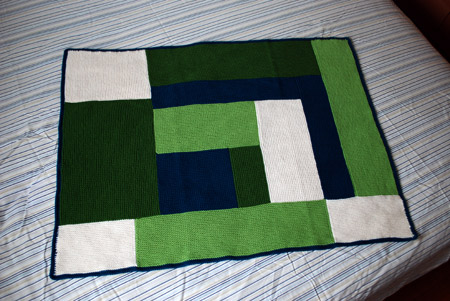 1
like