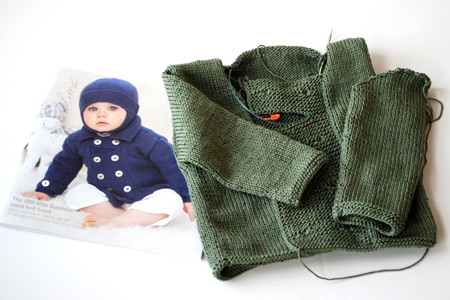 I so much wanted this project to work out. Though the adorable baby model is hard to ignore, I think the sweater and hat are very cute on their own. My choice of yarn, however, was disastrous. Elann.com Lara, which I've used once before (in a supporting role), would be wonderful for a summer tank, or a flowing scarf. It is slinky, silky, and drapey. It is not substantive, stretch-proof, or immune to snags: a good baby sweater it does not make.
In addition, the pattern is written… awkwardly. That's the best word, I think. Along the lines of Debbie Bliss patterns, if you know what I mean: hats knitted flat, many small pieces where there could have been only one, and weirdly-placed seams where it would have been simpler to just make two separate pieces. I don't think it's without hope, but I know if I were to knit this again, I'd alter how the whole thing is constructed.
Anyway, why speak ill of the dead? Instead, let's talk about a much-needed upgrade. I was so bummed by this Tugboat coat not working out, and a bunch of other misbehaving knits, that I wanted to knit a "sure thing" next.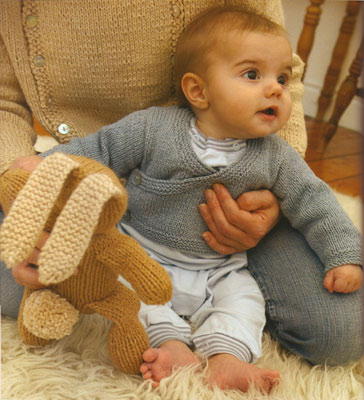 Harvey Kimono |
Natural Knits for Babies and Moms
by Louisa Harding
See, this one has a cute baby, too!
Though I've leafed through Natural Knits for Babies and Moms
before, it caught my attention recently when Danielle knit the Harvey Kimono for Elinor's baby, Odysseus. Elinor nonchalantly mentioned, "He wears this a lot because it is so easy to get on and off," and that was the "sure thing" moment for me.
Now that I've given the book a second look, I actually like it quite a bit. It has a lot of true basics: very simple pullovers, cardigans, vests, dresses, booties, and hats, in sizes from newborn to 12 months. They are not embellished, overly complicated, and are constructed in a straightforward way. I think such patterns are good to have in one's knitting arsenal: sometimes it's tricky (and annoying) to add all those "extras" when the whole sweater is, like, the size on an index card :).
Another thing that really piqued my curiosity in this book is that the majority of the projects, including the Harvey Kimono, are knit using Green Mountain Spinnery Cotton Comfort (80% wool/20% organic cotton, 180 yards/2 oz. skein). What is this yarn, and why is it used so much? Have you tried it? I had to find out.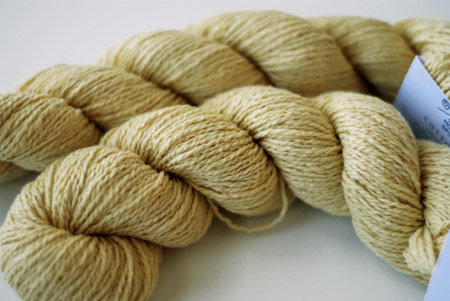 I bought two skeins in a Ravelry destash, in the Maize colorway. At first appearance the yarn looks and feels a little crunchy and nubbly, almost like Rowan's Summer Tweed. I haven't tried knitting with it yet, but I'm definitely looking forward to it! I'll let you know what's so special about it :).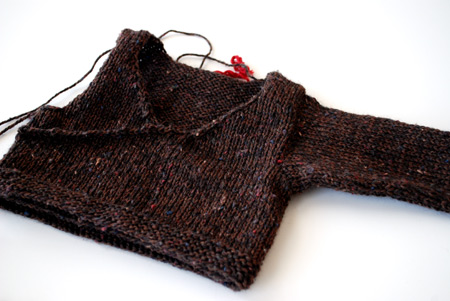 For this Harvey Kimono, though, I'm using another "sure thing": Kraemer Yarns Tatamy Tweed DK in Walnut. I first learned about this yarn from bestitched Diana, who's used it for items big and small, always with resounding success. In fact, this very skein came to me from the bestitched stash itself. Its claim to fame: one of the few non-wool tweed yarns on the market, and it's very hardy in wearing and machine washing and drying.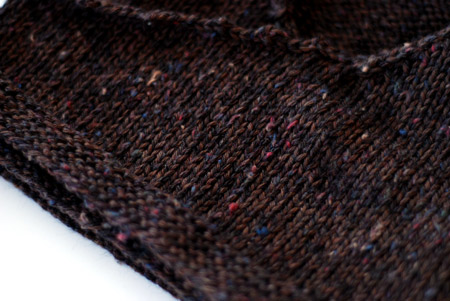 I don't know why it took me so long to try this yarn! It's lovely all around: pretty to look at, behaves on the needles, and makes a great knitted fabric. It's not overly drapey, nor particularly stiff, and in many ways resembles the look and feel of wool blends. On top of that, my knitting gauge using this yarn matches that of the Harvey Kimono pattern, so I've had to make no modifications to the pattern at all. Another "sure thing," contributing to this project's success. A sigh of relief – I was due a little break!
0
likes