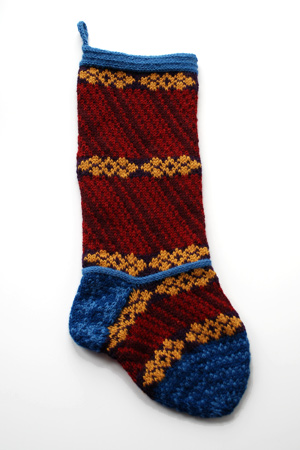 Because that's just the way I roll, especially when it comes to knitting. The words 'appropriateness' and 'seasonality' do not exist in my knitting dictionary.
I finished this stocking during the first week of January 2010, about two years after I had finished Walter's matching one, and one year after I had re-committed to knitting this one. Small details, really :). Maybe the hiatus was good, as I had forgotten how much I love these fantastic kits from Judy's Colors.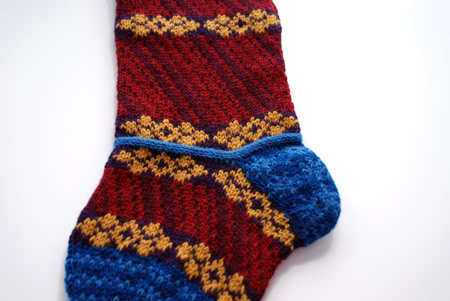 Pattern: Judy's Colors St. Nick Christmas stocking kit.
Yarn: Raumagarn 3-ply wool yarn.
Needles: US 4 Susan Bates 16″ circular needle and dpns.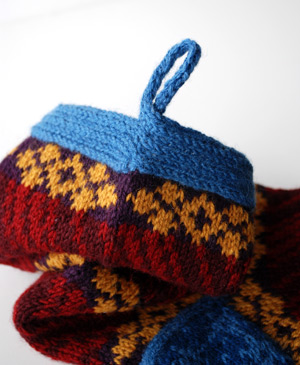 Favorite detail: all the applied i-cord! I especially loved the three rounds of i-cord at the top of the stocking, which I knit as a spiral. Least favorite detail: the shaped intarsia heel. Thank goodness for blocking. Also, every time the motif would change from spirals to golden flowers and back, there would be 4 yarn ends to weave in. Generally this would be a total bummer, except this is such a sticky wool, and weaving in more than an inch of yarn wasn't necessary.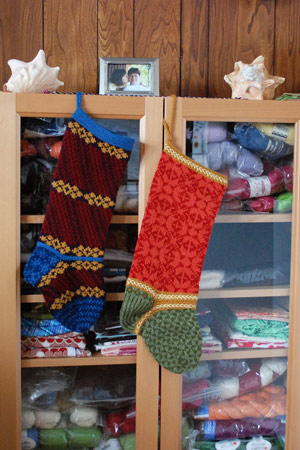 My St. Nick, and his Red Velvet, side by side. Adorning the yarn cabinet, of course :).
0
likes