I'm extremely happy with the amount of knitting I accomplished in 2009. The number of projects is not particularly impressive compared to years past, but I did manage to crank out some very large items, ones which required hours of dedication and patience, and hundreds of yards of yarn. It's only fitting that I finish the year with one such item: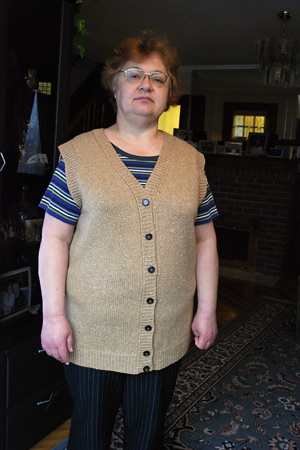 Pattern: A basic women's vest with input from Her Llama Cardigan (Knitting Classic Style
), Portland Tweed Zip Vest, and measurements my mom took of some of her clothes. Described in more detail in this introduction.
Yarn: Jo Sharp Silkroad DK Tweed in Butternut (#419), 9 skeins (that's about 1300 yards, for those who are counting). My thoughts about this yarn are in the abovementioned introduction, but to summarize, I really love it :).
Needles: Addi Turbo and Susan Bates circs, US 5. I used slightly smaller needles to get a denser fabric, to combat any potential stretching and loss of shape. My gauge was close to 5 stitches and 8 rows per inch. I used the same needles for the ribbing (as opposed to going even smaller), because twisted rib condenses itself nicely as is.
Finished dimensions: About 51″ across the bust, 47″ at the waist, 49″ at the hips. It's a very long vest, as you can see: 20.5″ from armpit to hem, and another 10.5″ armpit to shoulder (31″ total).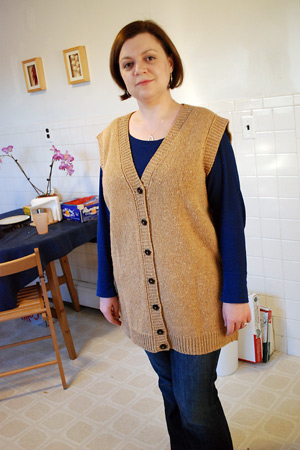 Here's a picture of the vest in indirect light (though the model is the wrong size), which I think showcases the true color much more accurately: it's a warm caramel with pink undertones. Taupe can be a harsh color, but I think among all the different shades of taupe, this is the best possible scenario.
And here are some details:
Pictures on the left: twisted rib armholes and button bands, picked up from edges which themselves had a narrow column of ribbed stitches. Pictures on the right: some twisted rib stitches at the seams; pretty dark brown buttons with light centers from Windsor Button (sorry it's buttoned a little crooked).
My mom was very happy with her new vest, and even suggested that I knit another! I'm not sure I'll follow through, as my stockinette willpower has been exhausted for the foreseeable future. (At least the color suggested for the second vest is deep teal, which is a whole lot more interesting than taupe.) However, were I to knit another, the vest could be improved in the following ways: work a few decreases in the armhole ribbing right at the armpit, and shorten the whole thing a few inches, as this vest peeks out from under my mom's lab coat.
0
likes