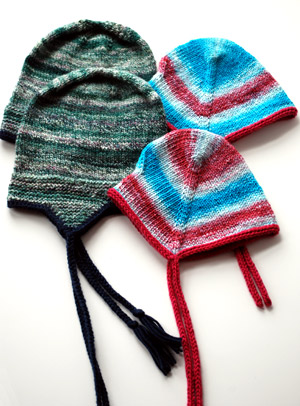 Adorable, right? This is an exciting time: so many of my friends are expecting! But the sad reality is that while I want to give something handknit to all of them, I can't shower each and every babe with a handknit blanket.
PSA: Should you want me to knit your baby a blanket, please have him or her at a time that does not coincide with the births of other friends' babies. Thank you :).
With these hats I was hoping to accomplish the seemingly impossible: knit something tiny teeny, but still incredibly special. Handspun will do that to a gift ;).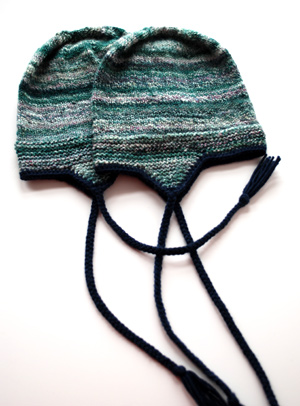 Pattern: Thorpe (link opens a pdf file) by Kirsten Kapur of Through the Loops Designs. See it on Ravelry.
Yarn: Sock Hop Yarn, Good Vibrations colorway, from Crown Mountain Farms. Each hat used up about 100 yards (only 100 yards!) of this hand-dyed and handspun superwash merino yarn. One skein of sock yarn was pretty much perfect for making two of these hats, with only a few grams remaining.
The contrast yarn is Louet Gems sportweight, 100% superwash merino in Indigo (16). This yarn is now thrice "leftovers" – I originally purchased it to make a pair of socks for my dad, then the leftovers found their way into this hat for Walter, the leftovers of which were used in knitting the Pod of Cetaceans Cardigan, and now those leftovers ended up as trim on this little baby Thorpe. And I still have a few yards left ;).
Needles and gauge: I used Inox dpns, 3.00 mm (that's about a US 2.5). Using those needles, this sportweight yarn knit to 6.5 spi and 10 rpi in my hands.
I obviously had to modify this pattern a bit, both for a smaller size and thinner yarn. Luckily, a top-down hat pattern is incredibly easy to modify as you go. I increased until I had 88 stitches, then knit even for 4.25″ before beginning the garter stitch portion. This resulted in a hat that is about 13.5″ around and 7.25″ from crown to where the earflaps start. When I knit the second hat, I made it a hair more shallow (the first seemed a little too long to me) by knitting even for only 3.75″, so the finished hat was 6.75″ deep overall. Oh, I used Kathryn Ivy's modifications for a jogless join in garter stitch, and it worked out perfectly.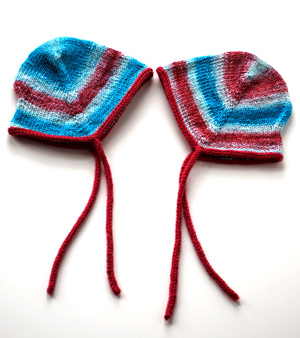 Pattern: Top Down Bonnet with Anime Character by Adrian Bizilia of Hello Yarn. See it on Ravelry.
Yarn: Hand-dyed and handspun superwash merino in the Retro Kitchen colorway from Missy, A Tree Hugger's Wife on Etsy. This was a custom order that I told you about a little while ago. Yup, it's the same yarn! Knits up stripey, as it ends up! Each bonnet used up only 65 yards of this yarn! The contrast yarn is Louet Gems sportweight, 100% superwash merino in Crabapple (26).
Needles and gauge: I used two US 5 circular needles to knit this project, an Addi and an Inox Express, I think. My gauge was 5.75 spi and 9 rpi.
Those of you who remarked that this bonnet looks a lot like a sock toe are precisely right! It's knit as you would knit a toe-up sock. So, I started with the inimitable Judy's magic cast-on, and followed the pattern instructions for the smallest size. When time came to knit the garter stitch border, I knit a few rounds even, and worked an i-cord bind-off using the contrast color. Two i-cord ties later, and voilà! I wasn't sure how to measure the finished dimensions of this hat, but it's about 6″ from the crown to where the tie starts.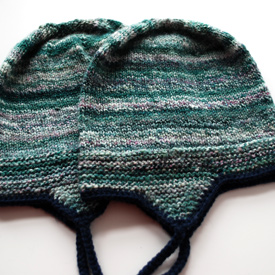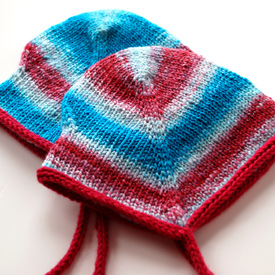 So simple, so nubbly, so squishy and delicious. I'm so glad that this type of handspun doesn't allow a complicated pattern, because I was glad to knit stockinette and garter stitch for a change. It allowed me to focus entirely on the formation of the stitches – all different, transforming in color, thickness, and texture right before my eyes. Maybe these hats aren't as impressive as a giant shawl, but I enjoyed knitting them so much. That's why there are four of them, and more to come.
1
like