I have a certain love for the rustic, nubbly, barber-pole, thick-n-thin goodness of handspun yarns. I love using them, but I love collecting them even more. I'm not a spinner, so I have to find creative ways to satisfy my handspun yarn yearnings. For example, I seek out commercially-available yarns which have that rustic look and feel: Mirasol Hap'i and Araucania Nature Cotton both find a home in my stash. Next, I joined the Crown Mountain Farms Sockhop Club, which promises fabulous handspun deliveries throughout the year. Last, I'm always on the lookout for Etsy sellers who carry handspun yarns, or even take custom hand-spinning orders!
After a tip from my friend Bertha, I contacted one such seller – Missy, A Tree Hugger's Wife on Etsy. I am deeply sorry that her shop is currently on vacation, because I think you would find Missy's typical offerings beautiful – fiber and yarn in saturated, unique color combinations. I asked Missy if she could take one of her standard funky colorways, "Retro Kitchen," but customize it for me by using a superwash merino, spinning it to a sport weight, and making a large 8 oz. order (that's half a pound, people!). She agreed!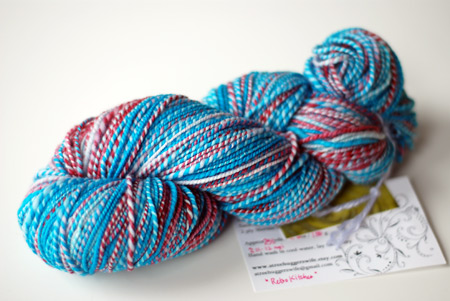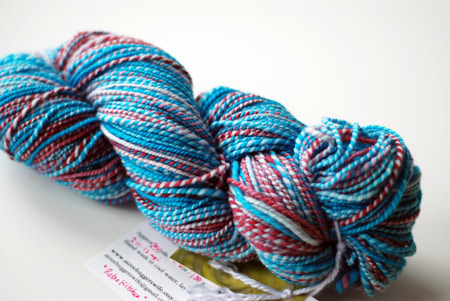 Oh, yes, it's so fabulous, it deserves two pictures!
I was extremely satisfied with my order from Missy, who was exceptionally quick, and kept me updated throughout the entire ordering-dyeing-spinning-shipping process. The product speaks for itself. If you're like me – love the handspun, but don't spin – do not hesitate to contact Missy with your proposal!
The funny thing is that I requested 500 yards of this yarn, thinking I'd knit it into something substantial – funky knee-highs or a toddler sweater, maybe? But my first plan is to use a mere fraction of the yarn, combine it with a complementary solid, and knit a tiny baby hat.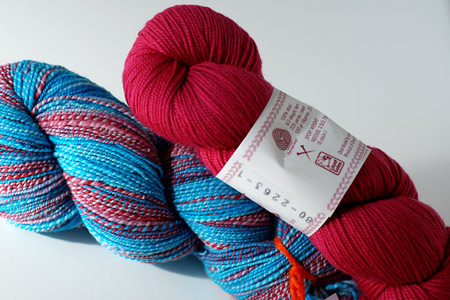 Maybe a variation of the Baby Bonnet from Last-Minute Knitted Gifts
?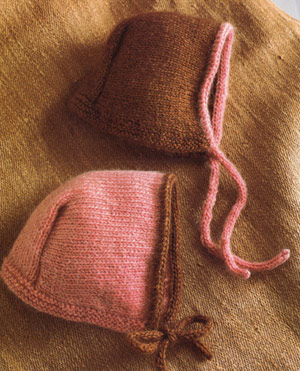 0
likes