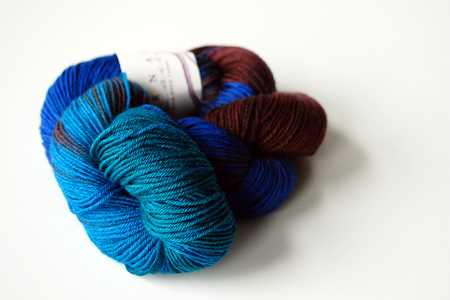 Accepting an opportunity to work with Lorna's Laces Shepherd Sock is a no-brainer for me. Especially if a colorway is as brilliant as this one!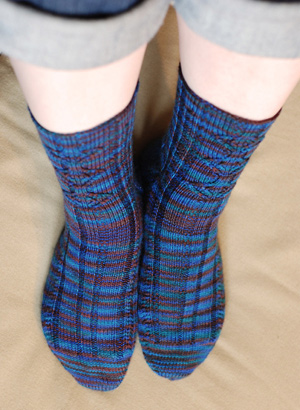 Introducing Birds in Flight sock pattern, available exclusively as a kit at the Woolie Ewe.
UPDATE: As of September 6, 2010, the pattern is no longer available through the Woolie Ewe. You can now purchase it through Ravelry! (membership not required)

USD $5.50
This design was inspired by the Mallard colorway, which was specially created for the Woolie Ewe by the talented artists at Lorna's Laces.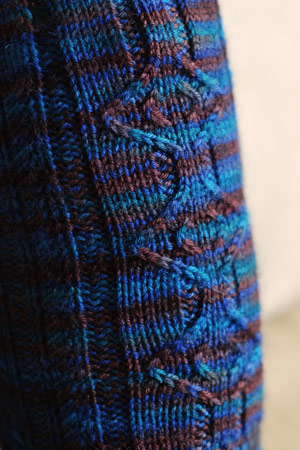 Images of birds in flight as I used to draw them when I was little – strongly angular, almost like checkmarks – were incorporated into the leg using simple cables.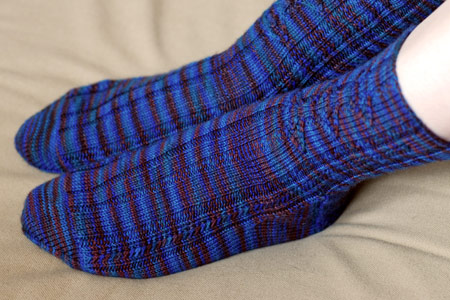 The bird design fluidly transitions into simple ribbing for the top of the foot, so the socks are comfortable when worn with shoes.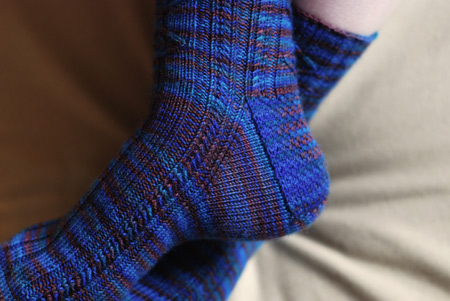 I took advantage of the highly variegated colorway by incorporating columns of three-stitch cables on either side of center panel: loops of yarn traveling over other stitches break up the blocks of color nicely.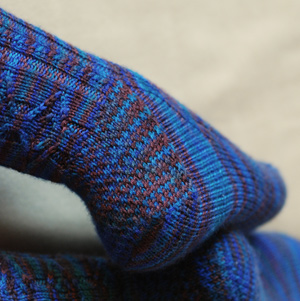 Similarly, the eye of partridge heel accentuates each beautiful color present within this yarn.
The socks are knit from the top down, and use the following techniques: knitting in the round, reading charts, and knitting cables. The finished dimensions are 5.5″ from cuff to top of heel, and about 7″ foot circumference (relaxed) to fit woman's average foot width. I used US 0 (2.0 mm) double-pointed needles to obtain a post-blocking gauge of 33 sts and 48 rnds = 4″ worked in stockinette stitch in the round.
See them on Ravelry:
I hope you enjoy them!
P.S. A special thanks to Pam at the Woolie Ewe, who helped to make this collaboration a success :).
0
likes