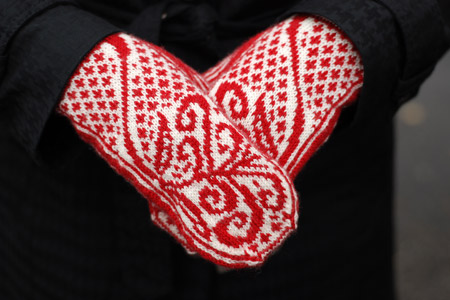 Pattern: a combination of Lillyfield and Anemoi mitten patterns. The shape and structure, including the cuffs, gusset thumbs, and "frame," are taken from Anemoi, but the inside motif is from Lillyfield.
The long, snug cuffs, by the way, are brilliant. They effortlessly slip under the sleeves of my jacket, and won't let a draft in, even if I'm bending my elbows. I hiked up my sleeves so you can have a look: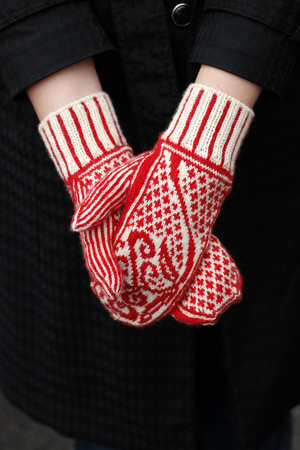 Yarn: SandnesGarn Lanett, 100% superwash wool, red (4128) and off-white (1012). I used less than 1 skein (!) of each.
The yarn is fantastic – very soft and not at all itchy. The strands grab one another despite being superwash, and the yarn has a very nice halo. This is great for Fair Isle knitting because all the little spaces between the stitches close up, any wonkiness is concealed, and the fabric looks wonderfully even.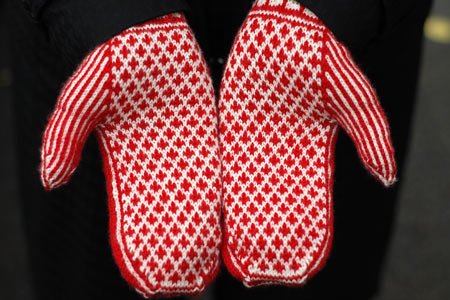 Needles: I knit these using the 2-circ method, with US 1 Susan Bates circular needles. The tip of the mitten and thumb were knit with Susan Bates dpns. My gauge, in pattern, was about 10 spi and 10 rpi.
Do you know what's mind-boggling? Just ridiculously mind-boggling? Taking three years to finish a pair of mittens. Three years!!! Let's take a trip down memory lane:
So re-knit I did, and during the rest of February, off-blog, I knit the matching left mitten. The only thing remaining was knitting the two thumbs, weaving in the ends, and putting the mittens in my coat pockets. Maybe a few hours' worth of work, at most? I was basically done.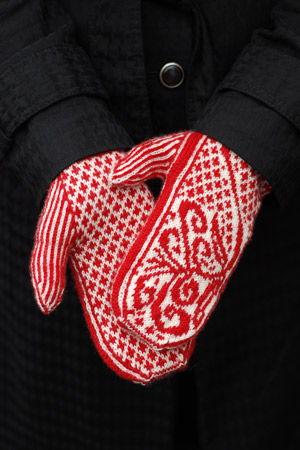 But other projects took center stage. My spring was filled with frantic lace knitting, including that huge Crown Prince Square Shawl for my grandma's 80th birthday. And instead of quickly finishing up the mittens in time to wear them during the chilly spring, and then moving on to the lace projects, I let them ferment in my knitting basket, thumb-less, for almost 9 months.
D'oh! Palm to forehead here because not only did I not get to wear them in the spring, I also completely forgot all the details of the project. When I picked up the mittens again a few days ago, I was totally clueless. Which needles was I using? There were several different sizes in the bag… Did I plan to modify the Lillyfield instructions for the thumbs in some way? Good thing only the thumbs remained – they were pretty easy to improvise.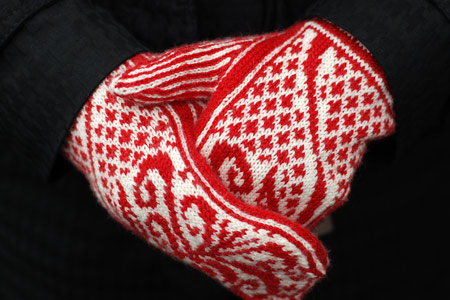 On the plus side, the mittens are finished in time for this winter, and they are fabulous. They feel a little bit loose on my hands, but I think that's the intent. I don't typically wear mittens, so I'm not the best judge of fit. I can tell you that there's definitely no "finger claustrophobia," and I can wiggle and bend my fingers without a problem.
I think I'll really enjoy wearing these! I dare say, these were worth the wait!
0
likes