You know how they say that a married couple eventually starts looking like one another? I think Mr. Sweetness and I are reaching that point.
We look the same when we're lovey: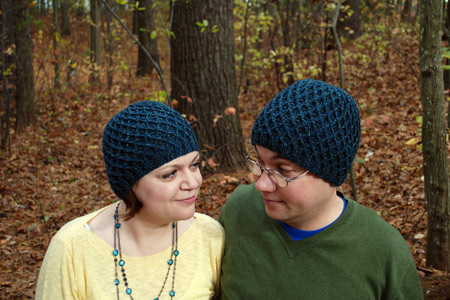 We look the same when we're contemplative: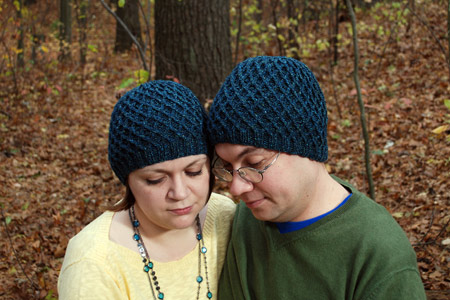 And we look the same when we're silly!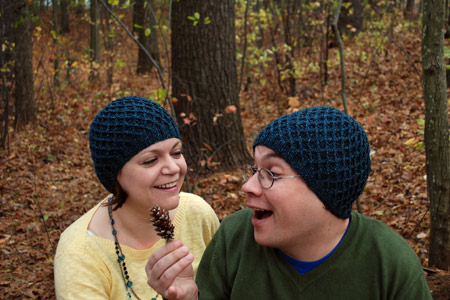 Pine cones are so amusing!
Pattern: His and hers Koolhaas hats. The details of his are documented here. To make mine, I knit the woman's size (4 repeats of the chart), but otherwise didn't change a thing.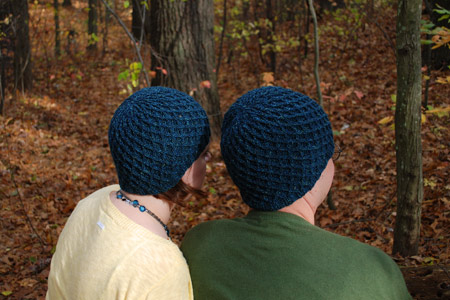 I think my hat came out just a little bit too shallow. I know 5 repeats, which I used for Walter's hat, would have been too deep. A longer stretch of ribbing, or 4.5 repeats, would have been perfect for mine. Unfortunately, I didn't have enough yarn to do that. If you remember, his hat took up just a bit more than 1 skein, so I had less than a full skein to make mine work. I had barely a yard left over when I was done! The other issue is that while Silky Tweed is a delightful yarn in all respects, I find it a bit itchy against my forehead. Anyway, I'll have to test it out to see if it's workable.
Maybe it's a bit cheesy to have matchy-matchy hats like that, but I really enjoyed knitting this pattern, twice! Plus, matching Koolhaus hats is undeniably better than the porcupine disaster that (thankfully) never was ;).
0
likes