The parade of baby knits continues!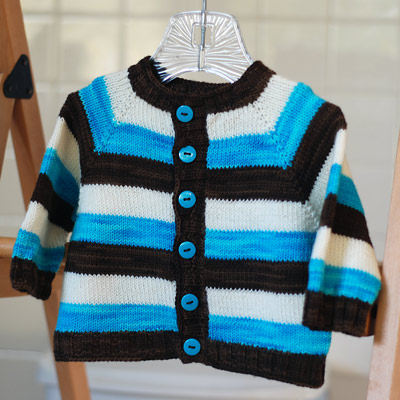 Pattern: basic top-down baby raglan. Finished dimensions: 21″ across the chest, 9.75″ shoulder to hem, and 5″ from sleeve cuff to armpit. I swiped the target measurements from Super-Natural Stripes, as well as the whole striping idea!
Needles: Susan Bates US 3 circs and dpns. My gauge after blocking was something like 6.5 stitches per inch, and 10 rows per inch.
Yarn: Shibui Sock, 100% superwash merino wool, fingering weight. I ended up using almost one full skein of Bark 7533, and half of a skein of each Sky 3115, and Ivory 7501.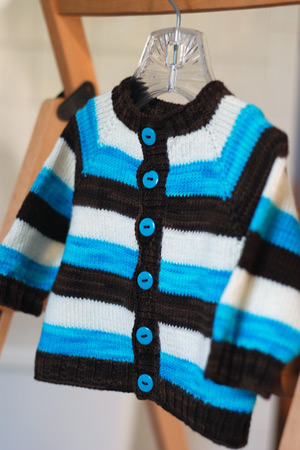 Some might say that it's crazy to knit a garment, even a tiny one, using fingering weight yarn. I say, if you enjoy knitting with fingering weight yarn, why not use it for a sweater?!? It's not just for socks! Here I was able to use handpainted yarn in way which allowed the variegations to shine. Also, I used less than 1 skein of each color: excellent for stash-busting! I'm guessing that I accumulate enough sock yarn leftovers for such a sweater each time I complete 4 pairs of adult socks.
Except in this case I bought the yarn specifically for this sweater, so it wasn't stash-busting at all ;). True confession: I completely copycatted these colors from Brooklyn Tweed Jared. I saw Jared's photo in this entry (scroll down), and knew the combination would be perfect for my friend's soon-to-be-here baby! I ended up substituting Bark and Ivory for Jared's Honey and Pebble, because I liked the contrast better. But the original idea was all his ;).
The yarn colors were an absolute delight. The Sky colorway is the most amazing turquoise. I always looked forward to knitting the Sky stripe, and it motivated me to plow through the Bark and Ivory bits.
I had two complaints about the yarn itself. First, the yarn twisted up on itself when knitting, and my stockinette slanted a bit, especially after blocking. The spinners in the group know that this is a trademark of an unbalanced yarn. Second, I found the Ivory colorway to be a little bit thinner than the other two. I think blocking helped a bit, but it's still thinner. Not a huge problem, except for those rows where I wove in the ends – the white stitches became distorted if they had to support a yarn tail.
Speaking of weaving in the ends… Of course I have to do the knitting equivalent of showing you my dirty laundry, and let you see the inside of the garment: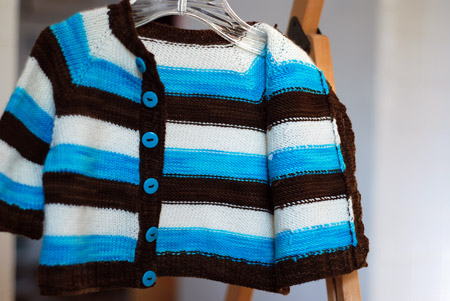 Not so bad! As with Super-Natural Stripes, if I could, I wove in the ends as I went along. The finishing was not terribly painful.
I found the perfect turquoise buttons at Windsor Button, of course. They always have exactly what I need. I attached an extra button to a little tag, which I thought was quite clever :). Hopefully this means it won't get lost.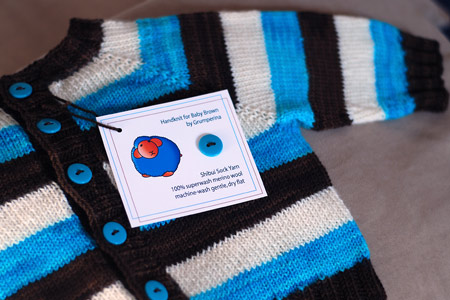 I copied Shibui's recommended yarn care onto the label – machine-wash gentle, dry flat – but actually machine-washed and dried the sweater when I blocked it myself. It seems to have worked just fine.
Destination: Exercise Before Knitting Elinor's house! The baby is due to arrive in a few weeks, I think. Enjoy!
0
likes