It's quite remarkable that all of my friends who are currently expecting are either having boys, choosing not to find out the sex of the baby ahead of time, or are too early in the pregnancy to know. Honeymoon Blanket, Número Dos was my first attempt at something gender-neutral for the babies of these lovely ladies. After reading your comments, I agree that it's not as girly as I originally declared. But considering I'll be cranking out many baby gifts in the coming months, I think I'll have the chance to give it to a little girl, which would be quite lovely :).
Anyway, in lieu of your reaction to the blanket, it is with much hesitation that I present to you the girl's sweater below: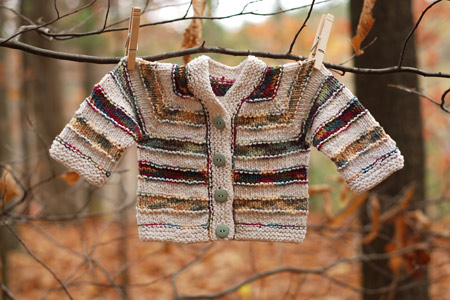 Pattern: Super-Natural Stripes by f. pea (on Ravelry). I knit the smallest size without changes to the stitch counts/measurements, but continued the striping all the way down, and knit a true button band.
Yarn: Mission Falls 1824 cotton, 102 Ivory, 772 Wheat, 774 Lush, and 775 Vintage. I used about 1.5 skeins of the ivory, and less than 1 skein of each of the other colors.
Needles: basic Boye
US 7 circs.
Finished dimensions: about 19″ around the chest, 9.25″ from hem to shoulder, 5.25″ from cuff to armpit. Glancing through various patterns, these measurements are typical for 0-6 months sizing.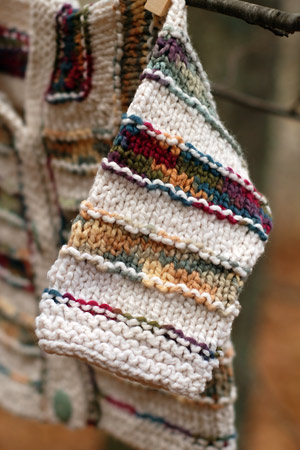 When I started knitting this sweater, I thought it would look great on any baby: boy, girl, whatever. But then at some point I changed my mind – the pretty purl ridges, the nubbly texture, for some reason they were whispering "girl" into my ear. Stupidly, I "sealed the deal," if you will, by placing the button holes on the right side of the sweater.
Here's a funny Catch-22: I usually like to knit the button holes before picking out the buttons. I find it way easier to pick out buttons, buttons which will work well, if I already have button holes into which they need to fit. Plus with a store like Windsor Button (aka, Button Mecca) at my disposal, narrowing the button selection by having a diameter limit already in place is a good thing. Anyway, that means I make the boy/girl button band decision before the buttons are picked! It burned me in this case, because the mysteriously-colored green-gray buttons totally brought this sweater back to gender-neutrality. Oh, well. This time it will be a girl's sweater.
The whole idea of knitting stripes for a baby sweater is very appealing to me. First of all, it's adorable. I'm warning you right now, there are already other boy- or girl-appropriate stripey baby sweaters on the way. Second of all, it allows you to use up scraps of yarn. In this case, I got odds and ends of Mission Falls 1824 cotton at a destash sale, and I didn't have enough of any one color to knit an entire sweater. Second of all, part B, is that I really love to alternate colors in this specific way. Third, of course those stripes generated a ton of ends to weave in, but not as many as there would have been if this sweater was adult-sized!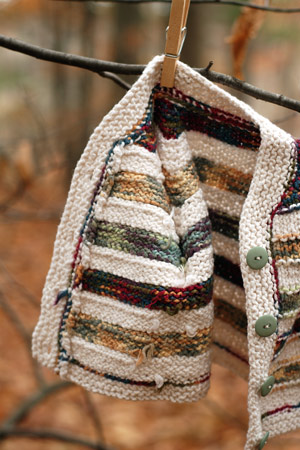 Overall I'm exceptionally pleased with this sweater ;). The pattern is very simple, and it allowed me to enjoy many hours in front of the TV with my hands happily busy. For the most part, I wove in ends as I went along, so the finishing wasn't too terrible.
The yarn is really wonderful – it is the opposite of that crisp, firm, shiny cotton that I typically use. After washing, the whole sweater feels like the softest hand towel. Furthermore, during blocking this highly-textured cotton blooms and molds itself into place. Unlike other cottons, the yarn ends are solidly secured and will not work themselves out to the right side of the sweater. The inside definitely has some stringy bits from the yarn ends, but I think they'll flatten down over time. In fact, knitting this sweater makes me look forward to knitting up other nubbly–tastic cottons in my stash.
One word of warning! There's a little bit of lint shedding in the wash, and I wouldn't recommend washing this with, say, your favorite pair of dark work pants. If you do, be ready to unearth all your lint-removing implements. There may also be cursing. I'm just sayin'.
0
likes