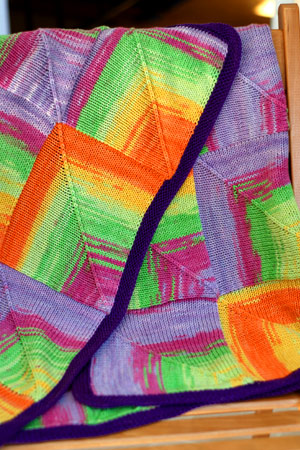 Pattern: Based on my honeymoon blanket. The miters were worked over 65 stitches.
Yarn: Katia Bombay, 100% cotton, color #2005, 251 yards/skein, 4 skeins. Each skein produced 6 mitered squares. For the edging I used 1 skein of elann Lara, 100% cotton, color 336 "Purple Heart," 138 yards/skein.
Needles: INOX Express 24″ circs, US 4. For the edging I used a super-long (60″) KnitPicks nickel-plated interchangeable needle, US 4.
Finished size: about 27″ wide and 40″ long.
When I picked out the yarn for this blanket, I really hoped that it would somehow work for a baby boy or a baby girl. Once I started knitting, it became clear that lilac and magenta dominated the colorway, and there was no way the blanket would work for a wee lad. So, I sighed deeply, lamented the fact that all my friends are expecting boys, and sealed the deal with a bright eggplant-purple border.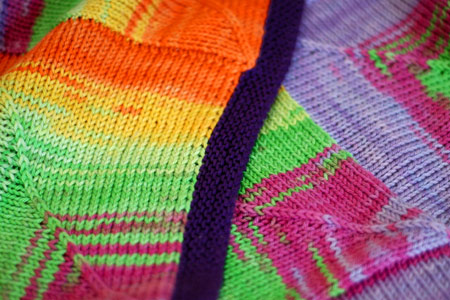 The blanket assembly was totally unexpected. I couldn't replicate the way I put the honeymoon blanket together because this version is rectangular, and the honeymoon one was square. But I didn't follow the 6-piece modified plan, either. As you remember, it would involve some frogging. Boo!
Tres Chic Veronique left a comment which implied a much better solution: "I love the zigzags in the first picture!" I'm not sure why I hadn't seen them before. I think I was too fixated on the individual miters to notice how they flowed together. And I agreed that the zigzags looked great! Plus, to get those, I wouldn't have to frog or do a thing! The zigzags emerge naturally as the yarn is knit up!
(Full disclosure: there was one instance where I had to intervene and force the colors to change in this typical fashion. A knot in the yarn caused a break in the color sequence, and I couldn't ignore it.)
To have continuous zigzags, I would need to seam up my four rectangles all facing the same direction, as though they were knit as one large piece.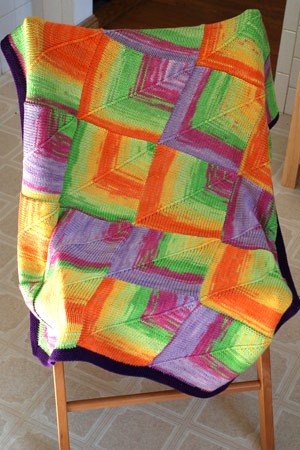 I think you can really see the traveling diagonal lines of color here. Had I known that my blanket would end up being seamed like this, I probably would have knit it as one large rectangle from the get-go. Though of course there's a certain convenience in working with only one ball of yarn at a time…
For the sake of posterity, here's an assembly diagram. One day it will come in handy, I'm sure :).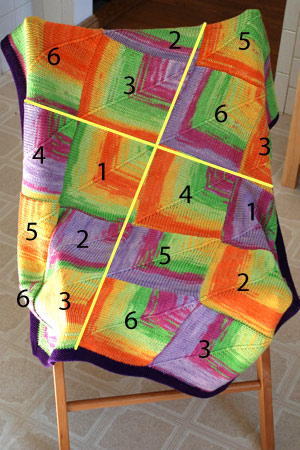 So, Bombay's predictable color changes actually ended up being a blessing in disguise!
My other groan about this yarn – the puckering near the tips of the miters – was significantly lessened after a trip through the washer and dryer. The yarn blocked very nicely. The stitches bloomed and became more even, the fabric became more drapey, and the puckers eased into the stitches surrounding them. It's not perfec – one of the long edges of the rectangle is about 2″ shorter than the other – but it's totally presentable. Whew! Honestly, before I washed it, I didn't think it was going to be gift-worthy. Much better now :).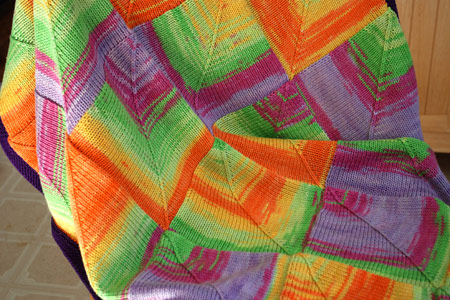 As before, I tried to cut my working yarn as few times as possible, and wove in ends as I went along. So, even though this is a blanket composed of many smaller pieces, I think the wrong side of the work looks quite nice!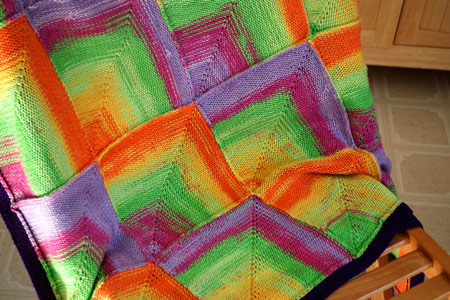 I'm still a little peeved about the finished size – 27″ X 40″ – compared to the 31.5″ square of the Jamaica version. But Bombay has its pluses – less splitty, more interesting colorways (in my opinion), and not yet discontinued! Despite various bumps and hurdles, I continue to enjoy knitting these mitered square blankets. I know this won't be the last one!
0
likes