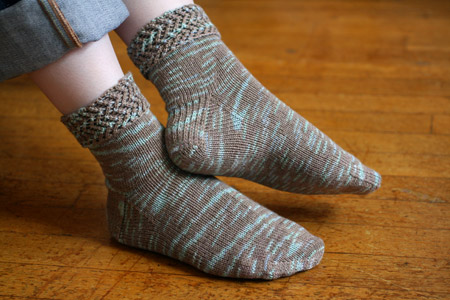 Pattern: Zigzag anklets by Pam Grushkin from Knitting Socks with Handpainted Yarn
(my review/preview here). I knit the 60-stitch (3rd) size.
Yarn: 2 skeins of Panda Superwash from Crystal Palace Yarns in the cocoa mint colorway (51% bamboo/39% superwash merino wool/10% nylon, 186 yards per 50 gram skein).
Needles: 2.5 mm INOX dpns. I think these are typically labeled US 2. My gauge was in the 34 sts/4″ range.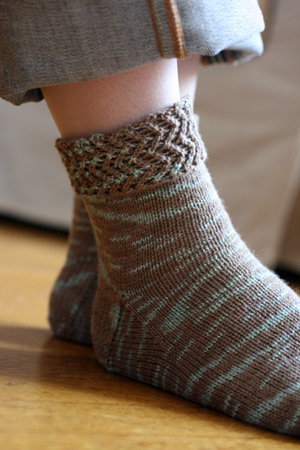 These anklets were meant to be, exactly as they are. Simple, straightforward, no futzing! The pairing of yarn and pattern is perfect. Knitting every stitch was delightful, especially watching aqua and blue stitches interrupt the soft, gray brown. The fit is wonderful.
Only a few mods: as I mentioned, I cast on using two US 3 needles held together; otherwise the edge was too tight. I also used a round of purls for the "fold line" instead of a round of knits.
Truthfully, these socks were originally meant for grandma – I think she would love them! She would love the colors, and she would love the wool/bamboo blend and shorter length for the summer. But as I started to knit, I instantly realized that they were coming out too narrow for her feet… and absolutely perfect for mine! Also, I didn't find the fabric itchy or overwhelmingly warm, so I decided to keep them! We'll see if I can actually wear them when the cooler weather hits. If not, I have many friends with similarly-sized feet who would happily adopt them ;).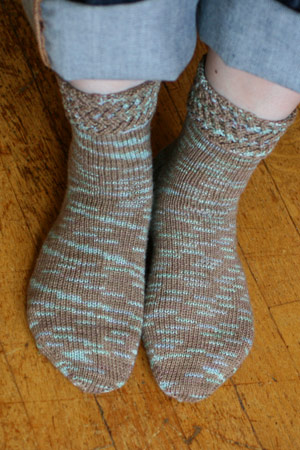 Last, I want to mention that, in my mind, Crystal Palace Yarns continues to be a leader in the bamboo-blend yarn market. I just love their offerings! Panda Silk DK was an amazing choice for the Mother of Pearl scarf. The Panda Cotton that Ms. Bestitched is currently using for her Södera socks is knitting up beautifully. And of course the Panda Superwash I used here proved to be a total winner. Thank you, Susan and the rest of the CPY team, for continuing to provide us with these great bamboo choices!
0
likes