If you take the time to look, you can find knitting everywhere you go.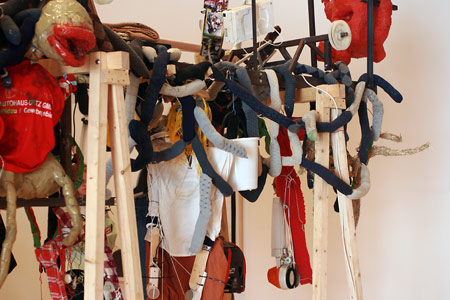 At the San Francisco Museum of Modern Art, John Bock's whimsical piece called Marlit contains stuffed fabric tubes made from old sweaters.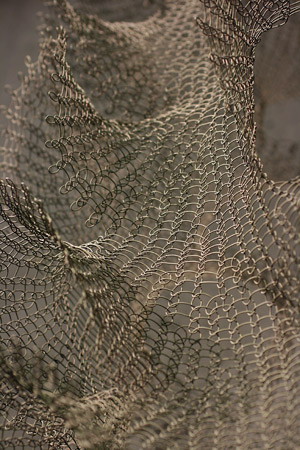 At the de Young Museum, wire sculptures by Ruth Asawa look to be nothing more than knitting through the back loop!
At ImagiKnit, an entire room is filled with non-wooly yarns. I'm serious. Side to side, floor to ceiling, 4 walls: cotton, soy, linen, silk, various synthetics; thick, thin, and thick 'n thin; light, dark, pastel, deep, and multi-colored. There were so many brands and yarns new to me, I could hardly control myself.
All colors completely and entirely off – my camera couldn't handle the mouth-watering saturated hues, no way, no how.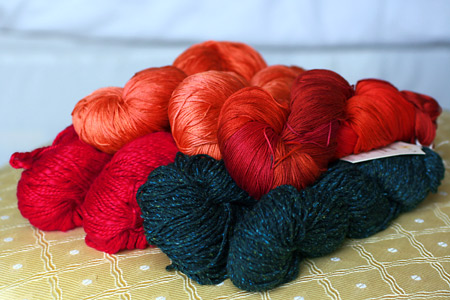 On top, Araucania Yarns Lonco, a fingering weight 100% mercerized cotton, 440 yards per 100 gram skein. I got 2 solid-colored skeins of color #3003, tangerine (lace shawl or scarf?), and 1 multi-colored skein of color #4007, a combination of red, brick, and dark pink. If anyone is having a baby girl, I'll ignore the "dry cleaning is recommended" note if you will :).
On bottom left, there are 2 skeins of Mirasol Hap'i, a worsted weight yarn made from 100% tanguis cotton, 132 yards per 100 gram skein. The color is #1108, and it is impossible to capture accurately. Impossible. It's very close to the Malabrigo I showed you here, and destined for the same locale: my neck :).
On bottom right, 2 skeins of Rowan Silky Tweed, 80% lambswool, 20% silk, 137 yards per 50 gram skein, color #753. Certainly I didn't have to go to California to pick up this wool yarn – Massachusetts knows its winter fibers! But it was a rare occasion: my husband was with me, and he expressed an interest in this particular yarn. A new winter hat is in his future as a result :).
There was some knitting on the road, too, and more to come this weekend. I'll have to show that to you next time!
1
like