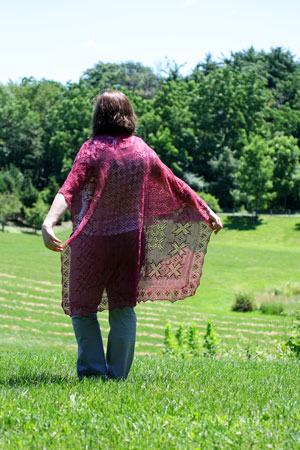 Pattern: Crown Prince Square Shawl from Knitted Lace of Estonia
by Nancy Bush (my review/preview here).
Yarn: Lorna's Laces Helen's Lace, 50% silk, 50% wool, Cranberry colorway (45ns), purchased from the always-fabulous Birds 'n Yarn. I used just a bit more than one skein, about 1400 yards.
Needles: KnitPicks fixed length metal circular needles, 3.0 mm (US 2.5), plus Krazy Glue to keep them together.
Finished size: About 41″ square.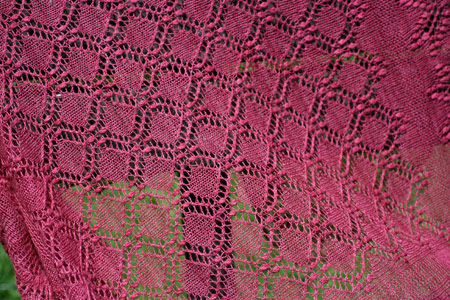 So, I made the tactical error of counting the number of nupps (and, therefore, the number of p7tog) that I made while knitting this shawl. This was a mistake because prior to knowing the number, I thought I had knit a pretty, large shawl, no biggie. After tallying up the numbers, however, the moment of WOW really sank in.
2260 nupps
Yeah. I can't quite believe I knit all of that, either.
And then I started to panic, ever so slightly. Should I send the shawl through the regular mail? Also, thank God this is destined for grandma (as her 80th birthday's present, no less) – she is the only person who can cherish this shawl properly. In fact, I don't think anyone else should ever be allowed to touch it again, myself included.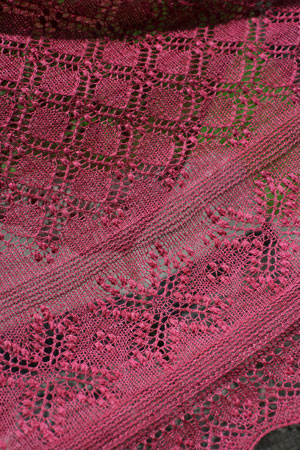 The pattern is massive, but I can't say it's overly complicated, even considering the separately-knit borders. Stitches flowed easily, and there was enough repetition that I was able to knit parts of the shawl while watching TV. I think the nupps ate up a lot of yardage, which is why 1400 yards were required for a shawl which is only 41″ square.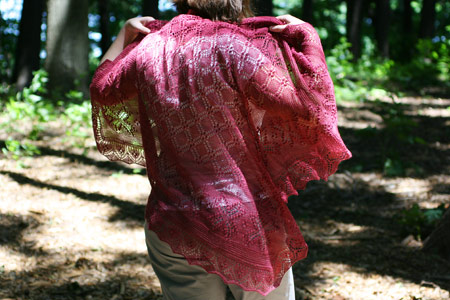 Speaking of the size… I was a little disappointed that I couldn't block the shawl a bit bigger. Mind you, it had enough stretchiness in the center stitches to go at least another 3″, I'm guessing. But the outermost edge was too tight and prevented it from getting any larger. Also, I wish the points blocked out a bit more pronounced and not so soft, which again was limited by the tightness of the edge.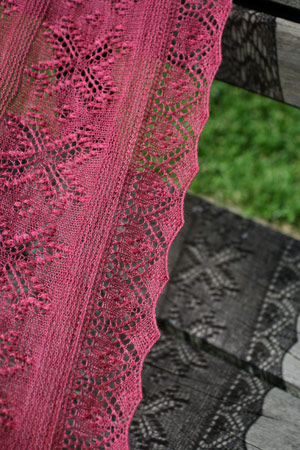 Solution and some advice for those who might be knitting this shawl: when casting on the lace edge, use a needle several times larger than the needle you're using for the main portion. (Yup, it's the cast-on of the lace edge which ends up being the outermost point of the shawl.)
With respect to this, Nancy Bush writes:
The Haapsalu knitters may choose to use a needle one to two sizes larger than was used for the center for [the lace edge] cast on and a needle one size smaller than the cast-on needle for knitting the lace. However, I unusually knit my shawls using the same needle for the center and lace edgings.
Le sigh. I assumed my knitting would be similar to Nancy's, and went with her suggestion here. I should have used the Haapsalu's advice instead ;). Point taken for the next round. You didn't think this would be my last shawl from this book, did you?!?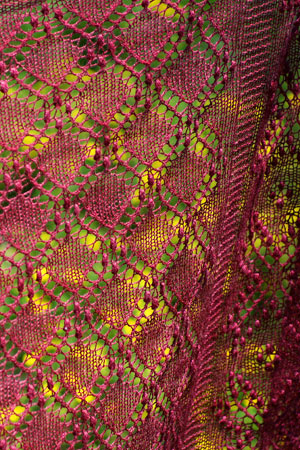 1
like