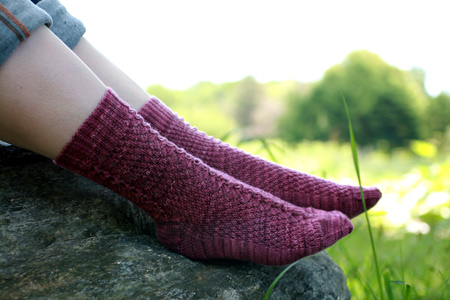 Pattern: Child's French socks from Knitting Vintage Socks
by Nancy Bush.
I'm really glad I took the time to knit this pattern. I was very inspired and motivated by all the Child's French socks that have been completed over the past few years. Just to name a few, Siow Chin, Yahaira, Terhi, and Chawne all made gorgeous ones. Call it jealousy if you will, but I had to knit a pair, too!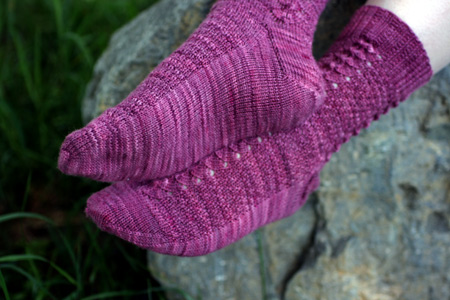 Yarn: Ellen's 1/2 Pint Farm sock yarn, 80% wool, 20% nylon, 500 yards (no colorway specified).
I started these socks back in February, but the originally-chosen Koigu didn't work out. Switching to Ellen's ½ Pint Farm sock yarn ended up being a great decision! The yarn is wonderfully variegated, and knits up like a dream. I know I mentioned that the thinness, composition, and feel of this yarn reminds me of Lorna's Laces, which is perhaps why I had such an easy time with it :). And just like my Lorna's socks, I ended up with a ton (30 grams) of leftovers!
Needles: Susan Bates US 0 dpns
. My favorites for sock knitting.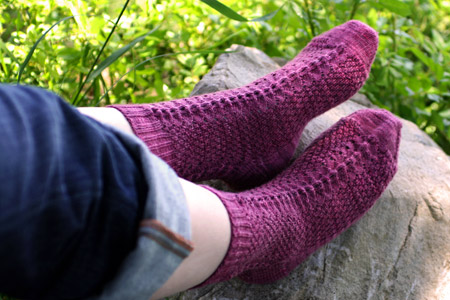 I'm certain my grandma will love these socks, and will happily accept them as a belated birthday gift. The trick is to stay motivated and finish her shawl, regardless of her happiness with these socks. I think I'll be visiting her again at the end of August, and that seems to be a feasible deadline. Cross your fingers that I'm not lured away by something shiny and new ;).
0
likes