I've finished the so-called Day shawl!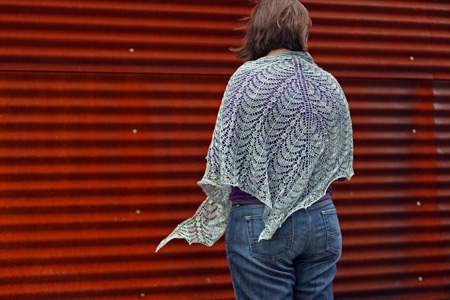 Pattern: Kiwassa by Chrissy Gardiner.
Yarn: Schaefer Yarn Andrea in Greenjeans, about ¾ of 1 skein (800 yards).
I'm happy to report that Schaefer Yarn's Andrea behaved significantly better this time around than last – minimal bleeding, and the blocked fabric is soft and supple! I think Greenjeans had the right amount of variegation for this type of shawl – some interest without unnecessary distraction.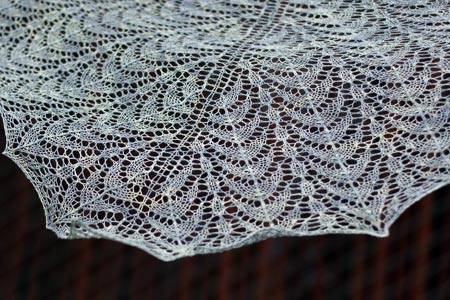 Needles: Addi Turbo circs, size US 5.
Finished size: about 77″ across the top, and 40″ from nape to the point.
To me, this is a huge shawl! I just don't knit them this big most of the time. I can't remember how many repeats I actually made, but the last few rows, each one bigger than the last, seemed to drag f o r e v e r.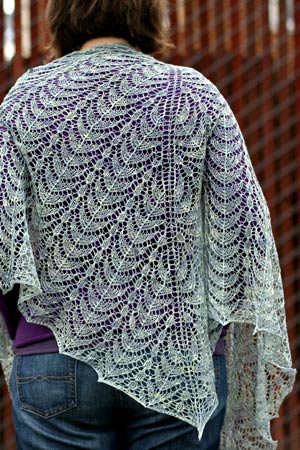 I enjoyed knitting this pattern. I could never remember exactly how the edge stitches were incorporated, so I needed to consult the chart throughout the project. Otherwise, the stitch pattern is very straightforward, and very pretty.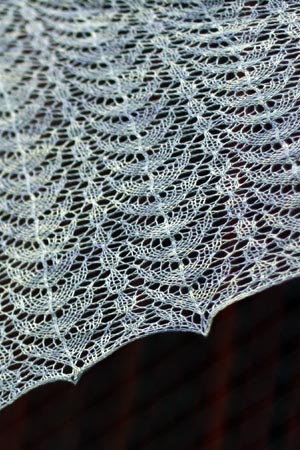 And now, the "Night" shawl! I'm already a few inches in, but there are many more to go. Can't wait to show you!
0
likes