Okay, okay, let me tell you what those gorgeous night and day yarns are all about.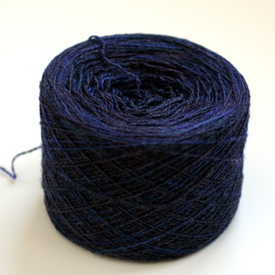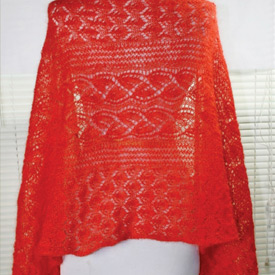 "Night," also known as Mountain Colors Winter Lace in Mountain Twilight, will be used for knitting Chrissy Gardiner's Path of Flowers stole. A very pretty design that's not complicated to knit, but it's sizeable (finished dimensions 25″ x 66″) and the yarn is dark, which I always find a bit tricky. The 21-25 scarf is taking forever for this very reason.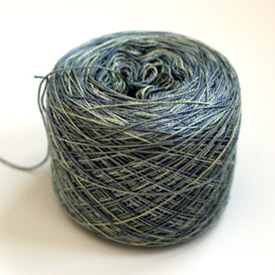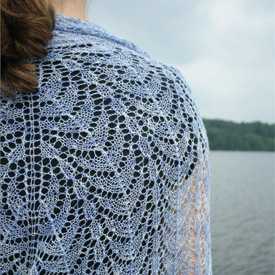 "Day" is of course Schaefer Yarn Andrea in Greenjeans, a yarn which you've encountered on this blog before. I'm hopeful that a year and a half later, in an entirely different colorway, it will knit up like a dream :). I'll use it for another Chrissy Gardiner design, Kiwassa. Knit from the nape of the neck out, I know this shawl will simply fly off the needles.
Both of these shawls are due in mid-May, so Chrissy can show them at her booth at TNNA.
Completing two shawls in two months would be generally pretty simple for me, except my grandma's Crown Prince shawl needs to be finished by June 1st, her 80th birthday. Progress? Nada since my last update, not even one more row.
PLUS I have a secret (for now) lace project due on June 30th, using one of the gorgeous yarns below: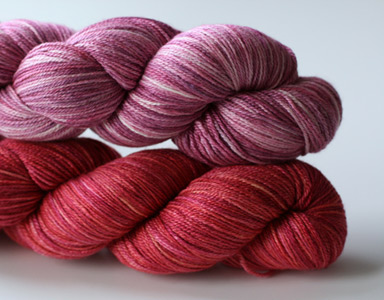 Can you guess what these are?
So, it looks like it will be the Spring of Lace around here. I have two small lingering projects – the Anemoi-Lillyfield Frankenmitten and the Child's French socks, which I expect to resolve themselves, so to say: between this and that, they'll get done. Other than that, four lace shawls/stoles in a few short months. No ifs, ands, or buts. Expect some serious lace business over here!
0
likes