Kitty would like to let you know that the Punctuated Rib socks have received her feline stamp of approval. She wouldn't leave them alone until I fell out of the armchair (it was a hilarious moment of klutziness, and no one was hurt) and created enough clatter to make her shimmy to another room.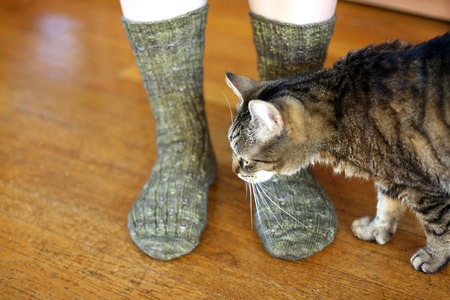 Pattern: Punctuated Rib Socks by Ann Budd from Knitting Socks with Handpainted Yarn
. My review/preview of this interesting new book is here.
Yarn: Madeline Tosh 100% superwash merino in Lichen. I used one skein, which contained 395 yards. At the end I had about 4.6 grams of yarn left over, probably enough for another inch in length.
Needles: Susan Bates
US 0 dpns. I switched to US 1 for the last 2″ of the sock cuff, though the instructions told me to do that much earlier ;).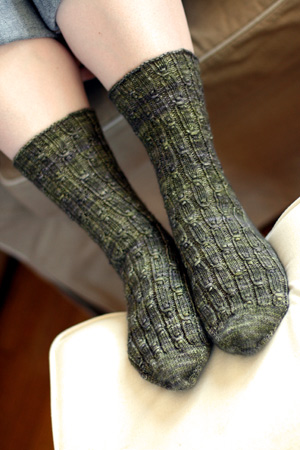 Though I made a bunch of little changes here and there, I basically worked the pattern as written. This is one of those great designs that takes the same mental energy as a 2×2 ribbed sock, but evolves into something much prettier and more interesting.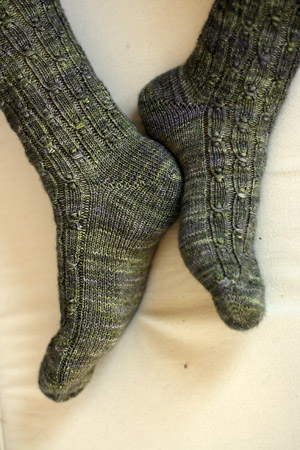 Totally noteworthy (again) – Cat Bordhi's short-row heels, found in her book New Pathways for Sock Knitters
. Also, Cat left me a comment on my last entry (!) letting me know about a set of videos on YouTube which includes a demonstration of this technique and others – check it out!
The socks have already been received by my grandma, and promptly passed on to my mom. For this, my grandma apologized profusely. I don't know why – it so doesn't matter to me whether mom or grandma wear them! I'm actually happy they went to mom – this is her first ever handknit pair of socks (and I have already taken measures to make sure it's not the last!). In the past she's waved them away as being "too hot," which I totally understand, as I don't wear wool socks for the same reason. But we are allowed to change our minds, especially during winters as frigid as this one.
The fact that these socks fit my mom (like me, she has very high arches and her feet are wide to boot) leads me to conclude that these socks were on the wide side. I knit the larger 68-stitch size and, if you'll indulge me in a physics analogy, the ribbing stores a lot of potential energy for stretching :). I wish I had measured gauge before handing them over, but I didn't.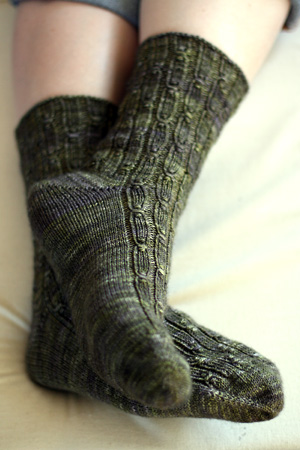 Yes, slightly big on me (look at those empty toes!), but perfect for mom.
0
likes